HWBOT is a website that was formed in early 2005 as a school project. It grew to be a large overclocking forum over the next 18 months, and now has over 40,000 members competing to get the best scores with hardware. Now that HWBOT is such a huge organization for overclocking, you can get a lot of rewards from participating in the competitions on HWBOT. From getting new hardware, to winning an all-expense paid trip to one (or more) of the big overclocking events like MOA, events at Computex, and others.
To have a chance to get any of the prizes, as well as to have fun competing on HWBOT, you need to know how to submit and compete on HWBOT.org! This article is a guide to show you just how to successfully compete on HWBOT.org, as well as an intro to overclocking.
First things first, you need to make a HWBOT profile. Doing this is fairly easily, as you simply need to go to hwbot.org and create an account. As per the usual, this is a fairly run of the mill process, with an e-mail address required and allows a custom name, and password. You can customize your profile as much or as little as you like, and here is an example of my HWBOT profile that I have fully customized: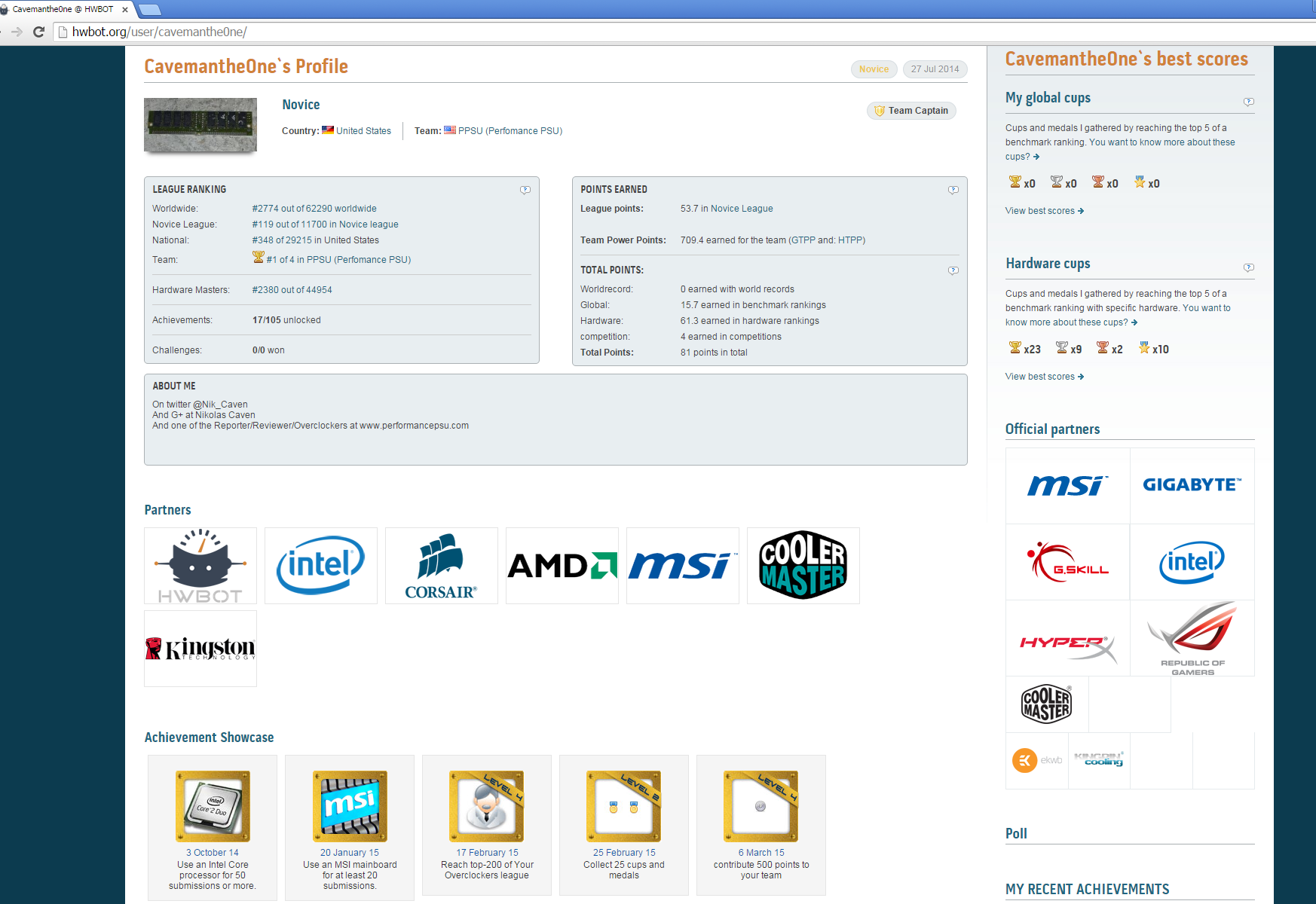 Next, you will have to download appropriate benchmarks and utilities, like CPU-z, GPU-z, and optional utilities like MSI Afterburner, Intel Extreme Tuning Utility, or AMD Overdrive. The only two that are strictly necessary are CPU-z and GPU-z though the other utilities are very useful for monitoring temperatures and stability. You can go to the appropriate companies' websites to find these utilities, or you can download some of them from hwbot.org.
* Note, due to a bug in Windows 8 and Windows 10 cannot be used for overclocking submissions. There is a timing bug, which you can find more info on here: http://hwbot.org/newsflash/2394_reminder_windows_88.1_and_server_2012_not_allowed_at_hwbot_(microsoft_still_without_fix)/
Once you have installed CPU-z and GPU-z, and any other utilities on your PC, you can now go to HWBOT and download any of the assorted CPU or GPU benchmarks. There are many to choose from, but the ones that many overclockers recommend are benchmarks that have points you can earn. These are the ones with the x marks on the Benchmark page of HWBOT, as you can see here: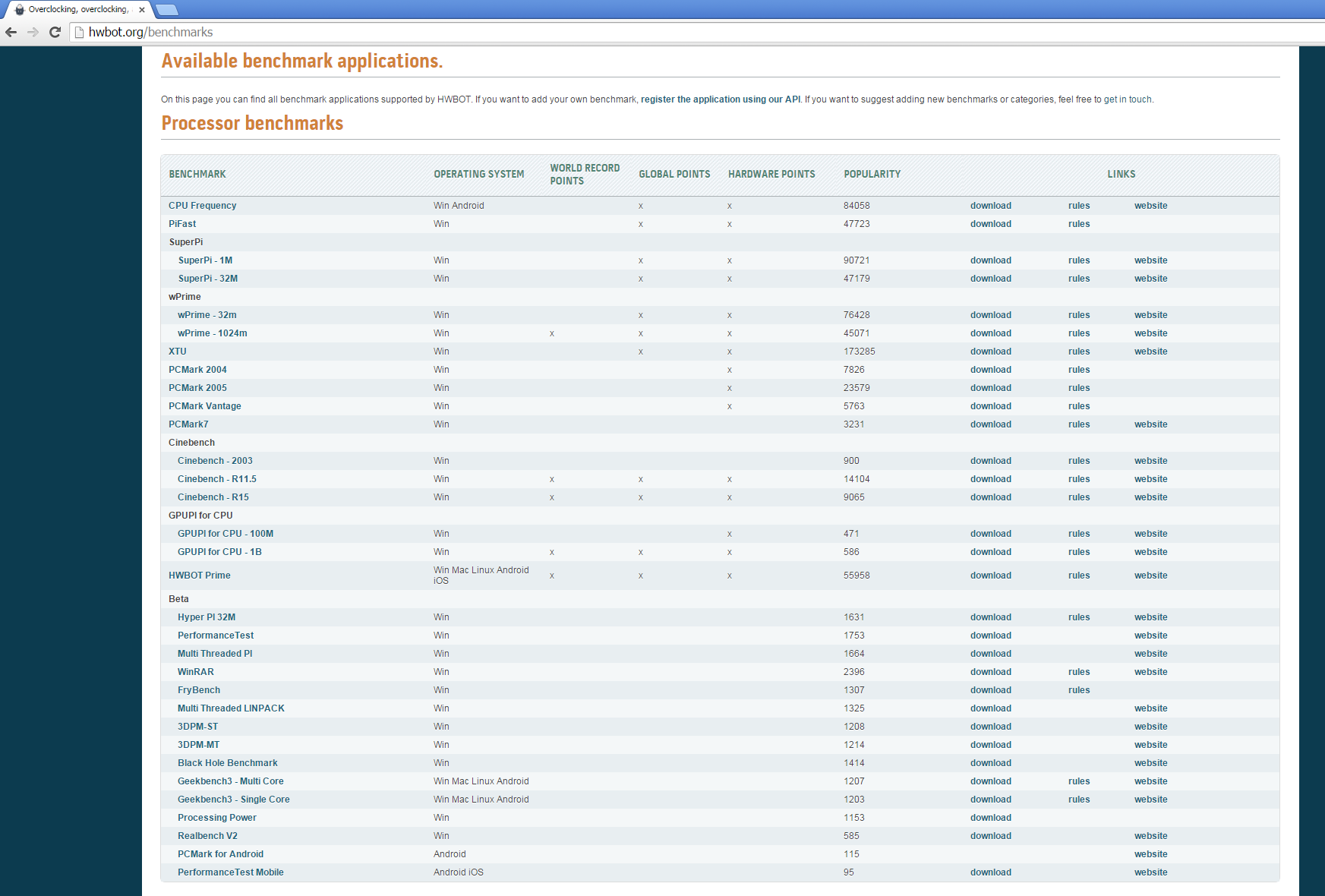 Now, after you have downloaded one (or more) benchmarks, you should install and run them. For example, if you download PCMark Vantage, you install it and then run it. When finished, you take a screenshot with the score, CPUz and GPUz tabs open. An example of this is below: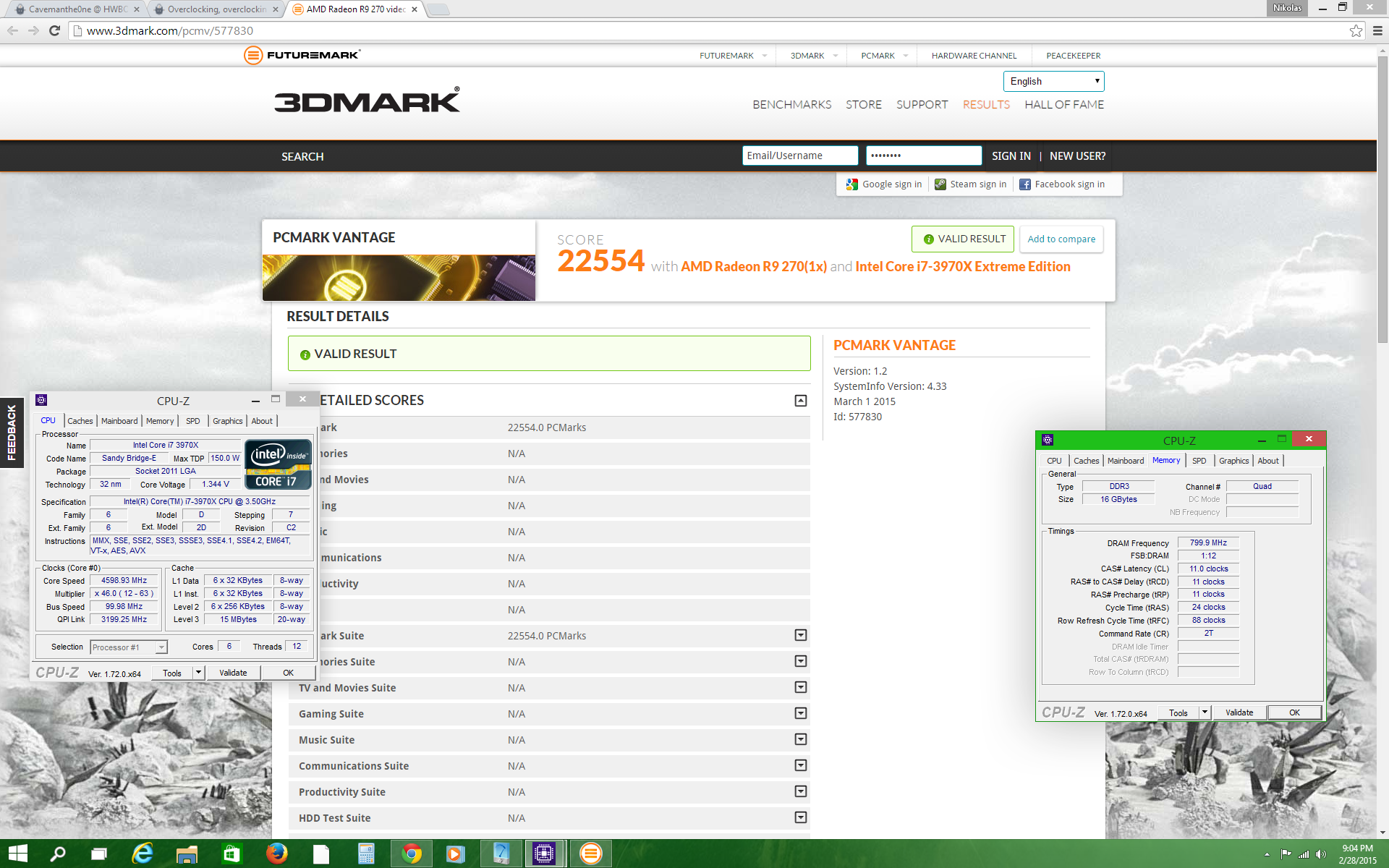 Then, after you have taken and saved a screenshot of your score and CPUz/GPUz, you go to Hwbot.org. When you arrive at the website, there is a large Submit Score button. When you click this, a new page will open with a list of benchmarks to choose from. You may pick an appropriate benchmark that you have run, in this case, PCMark Vantage. Then you will get to a new page that looks like this: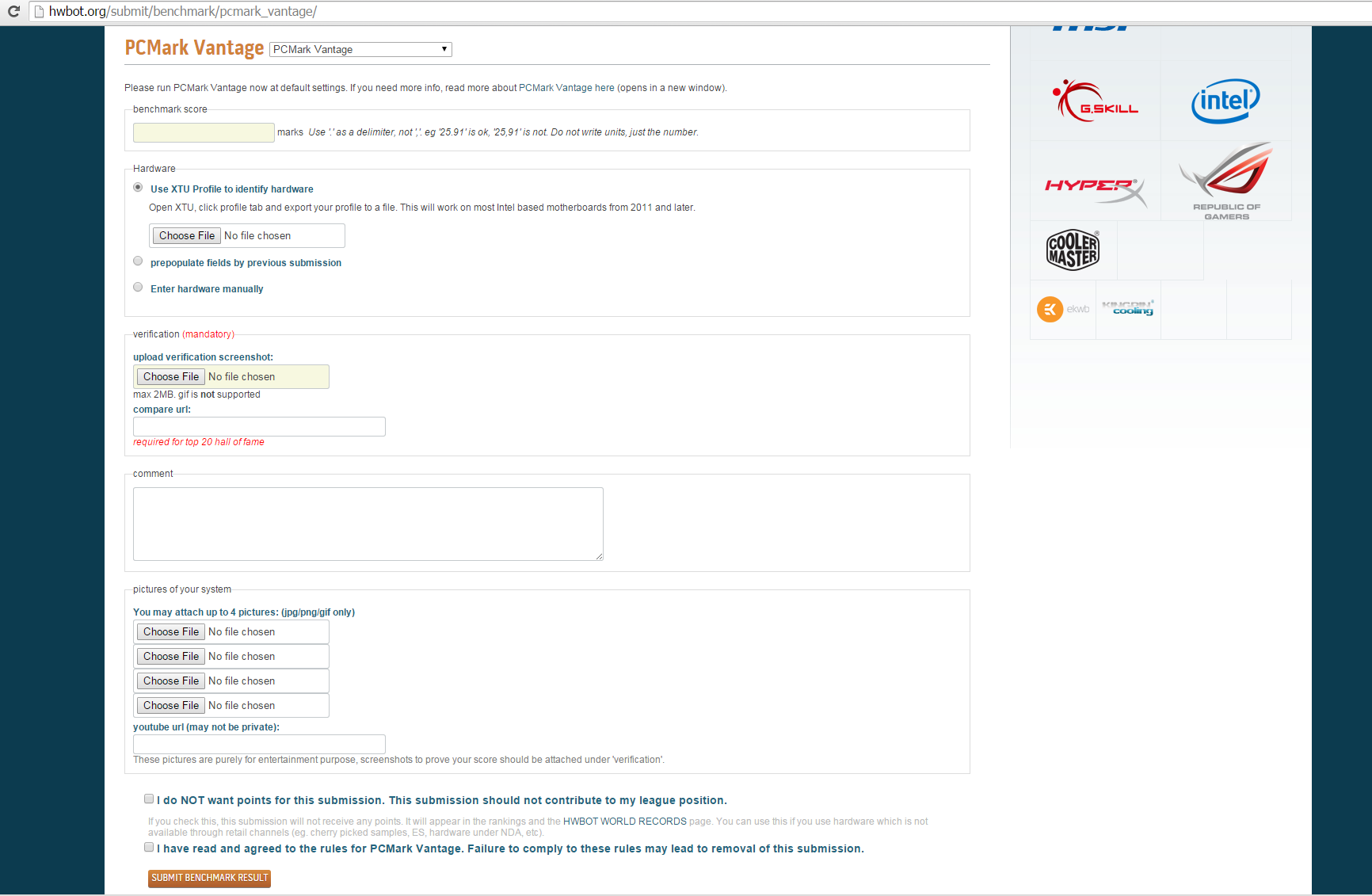 You will then fill out your hardware according to what you have. If you have an Intel system that supports Intel's XTU (Extreme Tuning Utility), you can use the XTU profile feature to fill in the hardware automatically. If not, you will have to fill in your hardware manually. Try to be as accurate as possible. When that is finished, enter the score you achieved and then upload the screenshot you have previously taken. When you have done that, check the box at the bottom of the page that means you understand the rules of HWBOT. Now, hit Submit Benchmark Result and your result will be submitted. When finished, you should be brought to a page with your results, which will look a lot like this: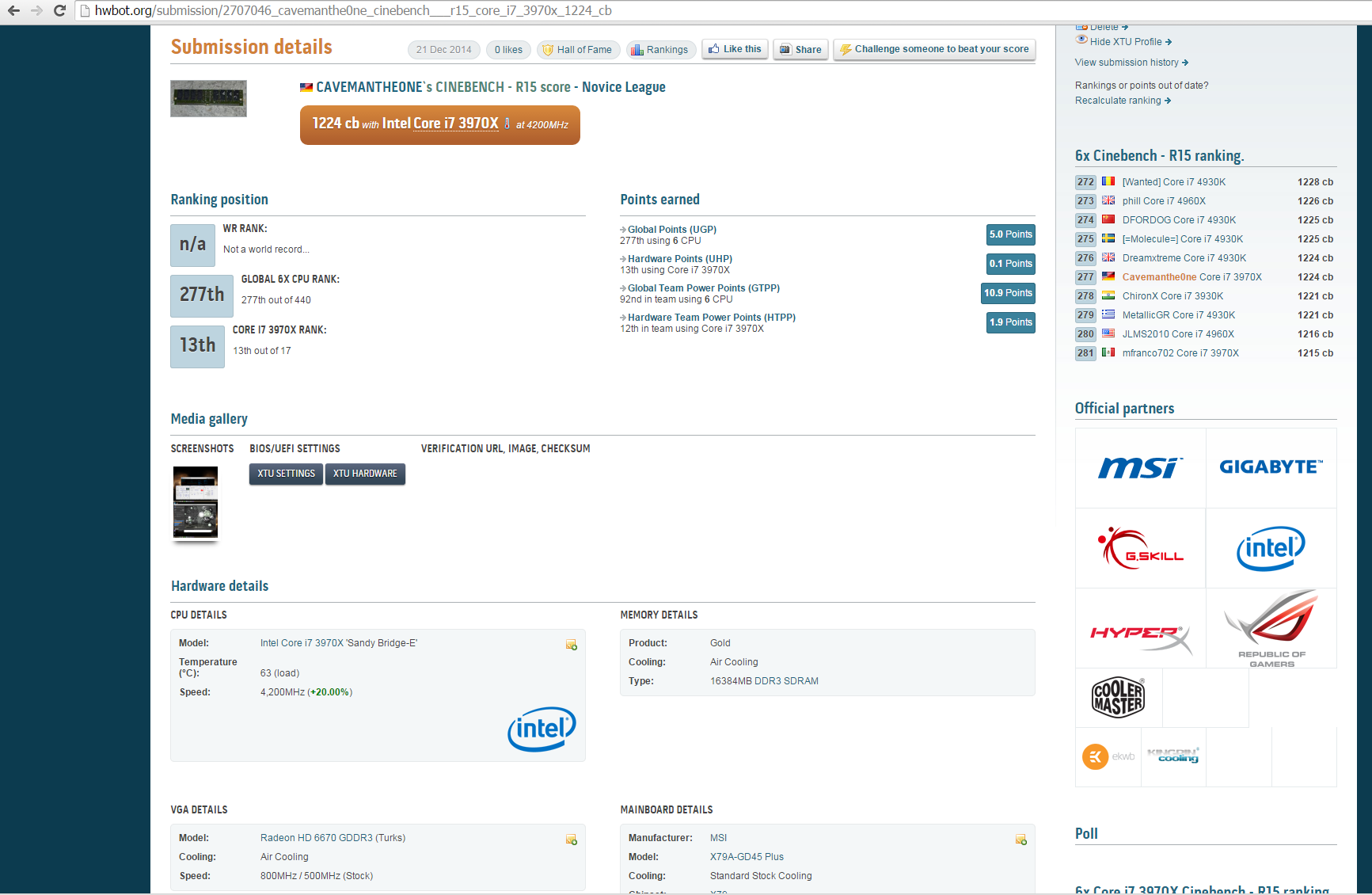 Now, you have officially submitted a result to HWBOT! Since you now know how to submit to HWBOT, you can delve deeper into overclocking and competing on HWBOT. Perhaps you have a well-binned CPU or GPU and get a lot of points, or perhaps not get very many points. It all depends on how far you can push your hardware! If you are interested, you can take a look at the Performance PSU HWBOT team here: http://hwbot.org/team/ppsu_(perfomance_psu)/ and join it if you would like! If you would prefer to go it solo, or join another team if you would like, you may certainly do so. That is a great idea, as you can not only get points from Hardware submissions, but also from team submissions!
If you want to know more about what HWboints (points on Hwbot) are, and how they work, check out this page to find and an in-depth explanation of what they are: http://hwbot.org/article/hwboints . An algorithm calculates the amount of points each submission gets for a certain benchmark. There are two categories of points for users: Hardware and Global points. Hardware points are awarded for getting high scores with specific hardware, like getting the best PCMark Vantage score with an i7 2600k. Global Points are awarded for overall high scores for example getting the #1 score in PCMark Vantage. Global points are much harder to achieve, but you can get as many of them as you can achieve. On the other hand, Hardware points are easier to achieve, but you can only achieve up to 300 hardware points.
Now that you have learned the how to compete on Hwbot go ahead and do what you will! I think that competing on HWBOT is a great way to have fun with your hardware, with the possibility of winning awesome hardware as a bonus! Leave a comment on what you think down below, along with any other things you would like to say.