In all of my experience building PCs I have used power supplies by, OCZ, Corsair, Thermaltake, EVGA, Antec, bequiet!, Seasonic and HDPlex. With all this experience, I have known about the quality and workmanship of the FSP power supplies, I just never used their power supplies before due to build theme or due to strict budget. Today, I finally get the opportunity to take a look at a power supply by one of the biggest names in the power supply industry. We will take a closer look a new power supply, the FSP Hydro PTM 750w.
Other Power Supply Reviews
FSP Hydro PTM 750W Features
Low Loads for Silent Operation: Hydro PTM series are featured with intelligent fan speed control circuit design which uses a diameter of 135mm, fluid dynamic bearing, for low noise and reliable operation at low and medium loads
1LLC Half Bridge Topology with DC-DC Module Design: Hydro PTM series features extremely tight voltage regulation to make the output voltage regulation under +/- 1%at any load change and offer you supreme efficiency and voltage stability
80 PLUS Platinum Certification: Hydro PTM series come with 80 Plus Platinum Certification which means your power supplies consume less heat and have a lower operating cost. The power supplies are guaranteed to operate at a minimum of 92% efficiency at 50% load of PSU rated power
10-Year Warranty: FSP is committed to manufacturing high-quality and reliable power supplies. The Hydro PTM series are backed by our 10-year warranty
Fully Modular Design for Quick and Easy Installation: Fully modular design simplifies installation and allows you to use only the cables you need, for a neater, cleaner build
Stylish Design in DIY Spirit: The power supplies come with 3 changeable side stickers to show your style, perfect for DIY enthusiasts and gamers
Safety Protection: OVP (Over Voltage Protection), UVP (Under Voltage Protection), OCP (Over Current Protection), OPP ( Over Power Protection), SCP (Short Circuit Protection), and OTP (Over Temperature Protection), a full guardian circuit protections to keep your hardware safe
PSU Specification:
| | |
| --- | --- |
| Dimensions (WxDxH) | 170 mm x 150 mm x 86 mm |
| Type | ATX 12V 2.4 |
| Modular | Fully Modular |
| Warranty | 10 Years |
| Input Voltage | 100-240 VAC ±10% |
| Input Current | 9A-4.5A |
| PFC | Active PFC (>0.9 typical) |
| Power Good Signal | 100-500ms |
| Input Frequency Range | 50Hz-60Hz |
| Efficieny | 92% Typically |
| Protection | OCP, OVP, UVP, SCP, OPP, OTP, SIP, NLO |
| Output Power | 750 watts |
| Regulatory | cTUVus/TUV/CB/RCM/CE/EAC/CCC/BSMI/FCC/KR |
| Certification | 80 Plus Platinum |
| Connections | 1 x MB 24(20+4) Pin, 2 x 8(4+4) Pin EPS 12V, 6 x 8(6+2) Pin PCI-E, 14 x SATA, 5 x Molex, 1 x FDD |
| Weight | 1.68kg |
Unboxing
Taking a look at the front of the box you are introduced with a nice graphic of the FSP Hydro PTM 750w PSU with an aura around it. FSP has their logo on the front of the box and you can notice the badges for 80+ Platinum, VR Ready and a 10-year warranty. One side of the box has diagrams of the different connectors included with the PSU. The other side of the box has diagrams about Acoustic Noise and PSU efficiency. The back of the box has another picture of the PSU, some more information about the features and also what is included in the box.
Removing the cardboard sleeve and opening up the box, you notice a great slogan by FSP, "Power Never Ends". You can notice some foam covering the right side of the box which is used to protect the PSU, a quick start guide and documentation on top of the foam and lastly a cardboard divider that separates the cables from the PSU.
The documentation sleeve has the quick start guide, warranty information and also 2 sets of stickers to be able to either install green or red stickers to the side of your PSU, in case the blue stickers do not go with your build theme.
Removing the foam cover, you notice the PSU wrapped in a plastic bag.
In the separate cable box, you have all the cables you need, the PSU power cable, 24 pin, 8 pin EPS, PCIe cables, Sata, Molex and a floppy disk power cable.
Closer Look at the PSU
Starting at the back of the PSU you have nice unique mesh design to be able to exhaust any heat out of, the power supply plug connector and the on/off switch.
At the top of the PSU you have a black base color, a black fan grill and a silver trim that outlines the fan grill covering the 135mm fan.
On the bottom, you have your power rail specifications.
On the front, you have the area where you plug in any of the modular cables that you need for your build. With the "Power Never Ends" logo displayed once again.
Test System, Installation and Performance
The system being used with this PSU is my test bench setup. It consists of the following parts:
CPU: Intel 8600K
Motherboard: EVGA Z370 FTW
Memory: Gskill Ripjaws V 16gb 3200 mhz
GPU: ASUS ROG HD 5870 2GB
CPU Cooler: Corsair H100i v2
PSU: FSP Hydro PTM 850w
Installing the PSU was very straight forward. FSP does provide you with four mounting screws and also some cable ties. The cables are aesthetically pleasing as they are black and flat and tend to not mess with the aesthetics of your build.
Performance has been great over the last few days with the 750w PSU. Testing several GPUs from the Vega 64, a RTX 2080 and even a RX 590, the FSP Hydro didn't miss a beat. It showed great efficiency and using this PSU, I feel like I'm getting the best power efficiency coming out of the wall. I also love the security of knowing that the quality parts used inside the PSU will protect my components from any power issues and allow me to either keep testing or gaming on!
FSP Hydro PTM 750W PSU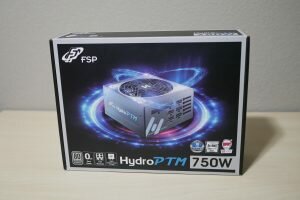 Pros
80 PLUS Platinum efficiency
Flat Black Cables
Compact size
100% Japanese Capacitors for efficiency and life expectancy
Amazing 10 Year warranty
Review Summary
Overall, FSP has designed a great power supply with their new Hydro PTM series. It comes in flavors of 550w, 650w and 750w variants. If you are looking for a 750W ($119.99 on Newegg), 550w or 650W PSUs at a great price, look no further than our recommended Hydro PTM by FSP.