PerformancePSU Verdict:
4.4
/
5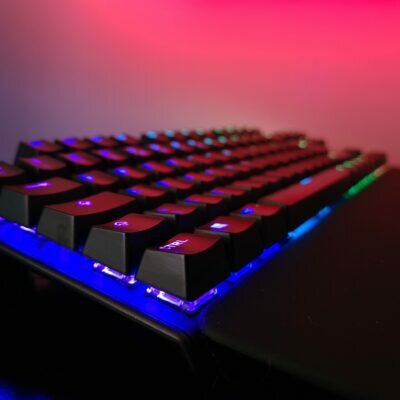 View on Amazon
Steelseries Flagship keyboard is not just an eye-turner but a serious performer. It has blazing-fast response times mean you will always be one step ahead. One of the best gaming keyboards on the market with very little to currently compete, however, why did we score this keyboard a 3 on build quality? Well, in short - the volume scroller stopped working after a year or so of usage.
Adjustable actuation
Amazing gaming performance
Beautiful RGB Lighting
Robust construction
Reputable Brand
We recently did a guide on how to can create your own addressable RBG lighting setup which has led on to this, a new desk addition – Steelseries Apex TKL Pro RGB mechanical keyboard.
Out of the box, construction screams quality, the adjustable mechanical switches are an awesome touch, and the lighting is vibrant, but, as with most things in this world, it's not without its flaws – can I look past them, though?
I'm taking an unbiased look at one of the hottest mechanical gaming keyboards to have come out recently – this is my Steelseries APEX TKL Pro review.




Steelseries APEX TKL Pro Specifications
| | |
| --- | --- |
| Lighting | Backlit RGB |
| Switches | 61 OmniPoint adjustable mechanical switch Combined with 43 Gateron reds |
| Response Time | 0.7ms |
| Connectivity | 1 x USB Type-A Passthrough hub |
| Materials | Plastic, Aircraft Grade Aluminium |
| Accessories | Magnetic Soft-touch wrist support |
| Key features | Adjustable Actuation between 0.4mm and 3.6mm, Programmable OLED display, Full spectrum RBG lighting, Custom Profiles, Macro Support, Built-in USB hub |
| Compatability | PC, Mac, Playstation, Xbox |
| Price | $199 on Amazon |
OmniPoint Mechanical Switches
The TKL Pro is attractive for a few reasons; Built by a reputable brand, small package for cramped desks but – the most interesting of them all is their OmniPoint adjustable mechanical switches which have an adjustable actuation between 0.4mm and 3.6mm.




They feel very similar cherry MX reds with a slight difference – OmniPoint switches are far smoother, and the adjustable actuation means the keyboard can be tuned for many applications.
Steelseries APEX TKL Pro Aesthetics
Made from plastic construction, the TKL Pro feels well made and robust, but that's nothing I wouldn't expect from a company such as SS. The individually addressable RBG backlights are beautiful on the eye and have really accurate colors allowing for awesome effects and blends of colour.

To the top right of the keyboard, they have a minimal metal scroll wheel that controls the system volume and to the left is a programmable OLED display allowing you to display anything you wish there. It also displays information from popular games and applications such as Discord, CS:GO, and League of legends, although, beyond these titles, I found support for third party games to be lacking.
Steelseries APEX TKL Pro Software
To control the lighting features of the keyboard, you will need their software – Steelseries engine 3 which interfaces with all of the companies RGB products.

The software is intuitive, easy to use and makes it simple to make changes from within your desktop environment. You have control over every feature of the keyboard, albeit a little more control than the OSD, but they both achieve the same thing.
Colour & Animations

Steelseries Engine 3 comes with a plethora of options to customise the look of the keyboard. You can choose to display a Single Color, a Color shifter, Gradient or Breathing animations.
It also comes packed with some presets built-in, which look stunning.
Programming the OLED display

The OLED display can be programmed easily by uploading a png. It will convert the image and display it for you. It does feel a bit gimmicky.
Individual actuation for each key

The keyboard OSD will allow you to change the actuation of all keys at once, but the software takes it a step further allowing you to set the actuation of each key individually or as part of a group. I use this feature to set my WASD to a medium actuation for movement.
APEX TKL PRO keyboard for Daily Usage
I have used the keyboard daily for around eight weeks now for a range of tasks. These include programming for long periods of time, playing FPS, RTS and RPG games such as World of Warcraft, Counter-Strike, Dota, League of Legends and Rocket League to name a few.

For programming & long periods typing
The keyboards action is smooth from keypress to keypress. The adjustable actuation is great for tuning overspill when typing. Setting a deeper actuation point around 1.5 – 2mm stops you from mistyping. My only gripe with the keyboard is that it's very 'clacky' in sound. It's by no means a quiet keyboard, and lube won't really help in this instance.
The legs on the back of the keyboard that allows you to add tilt in combination with the soft-touch wrist support make it very comfortable to type on for long periods.
Steelseries APEX TKL Pro For Gaming
This keyboard is in another league because of its blisteringly fast response times and adjustable actuation. For fast-paced first-person shooters, I found myself with my actuation set around setting 4 – I'm not sure how this translates into raw millimetres, but essentially it doesn't take much of a press to register the command.
For games such as Starcraft, World of Warcraft, where you are mashing buttons more often, I have my actuation set around 8 – allowing my keys to almost bottom out before registering the command. The ability to do this might seem under-rated, but it's a serious game-changer in terms of customisation.