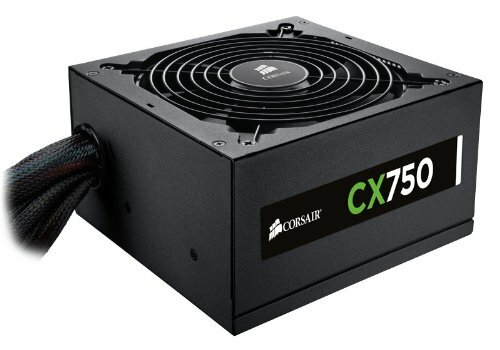 The Corsair CX750M PSU is an 80 PLUS bronze rated semi-modular power supply running at up to 85% energy efficiency aimed towards budget enthusiasts.
If anything goes wrong within 3 years of purchasing the power supply and it wasn't your fault, Corsair will get it repaired coming with a 3-year warranty and lifetime access to Corsairs technical support service.
UPDATE: This review is dated now and although this power supply is still going strong for us in 2021, there are better options available on the market. Here are some other power supplies we have reviewed
Corsair CX750M Technical Specifications
| DC Output | +3.3V | +5V | +12V | -12V | -5Vsb |
| --- | --- | --- | --- | --- | --- |
| Max Load | 25A | 25A | 62A | 0.8A | 3.0A |
Model No*
CP-9020061-NA
Power
750 Watts
Fan Size
120mm
Fan Size
120mm
Connectivity
1 x ATX
1 x EPS Connector
2 x Floppy Connectors
6 x Molex
4 x PCIe connectors
8 x Sata
Corsair CX750M PSU Unboxing
Unpacking the Corsair CX750M was a pleasant experience with everything perfectly packed. Coming squeezed between air tubes to ensure it was not damaged in transit – It was great to see a manufacturer taking precautions with potential shipping complications and DOA units.
The CX750X has a very stealth like feel having been coated in a matt black heat-resistant paint coming with a matching black fan grill and neon green and white Corsair branded stickers.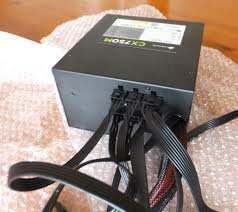 As you can see, the Corsair CX750M cables are well organized, instead of being braided like a majority of PSUs on the market Corsair have opted for flat cables.
While they take a little more work to mould in and around the PC case they are a decent length, I had no trouble routing them through our Corsair Obsidian Series Black 650D.
If I had to be picky about this power supply it would have been great to see some spare cables included just in case something goes wrong during the build process or a bad cable slipped through the quality control process, while thankfully it didn't happen to me, it has happened before with the previous PC builds.
Corsair CX750M Bios Readouts
The power supply is now powering an Intel Core i5 2500k overclocked to 4.8Ghz, Custom CPU water cooling and an ASUS 290x OC.
UPDATE: This power supply is still going strong powering a Devil Canyon 4790K @ 4.8Ghz. It's a cracking budget power supply for the money.
The CX750M is a solid power supply providing all components more power than they need, this allows for slight fluctuations in rail voltages when the PSU is under load. This is great considering a lot of power supplies often come with the +12v rail sitting under 12.00. Even when I am mining bitcoin and my machine is under full load the PSU keeps sturdy and doesn't falter.
Conclusion
Corsair has really been making a name for themselves in the past years with high-quality products such as their performance memory modules and it seems their power supplies are no exception.
Overall I am very pleased with our new Corsair CX Series 750M. My previous highest overclock prior to purchasing the Corsair CX750M was 4.55Ghz Prime95 stable now we are sitting at 4.8GHz.
Now I am not saying this power supply is gods gift to PC overclocking enthusiasts and will magically increase your overclock, however, the overall stability of my system and my increased overclock has made me one happy user, I take my hat off Corsair.
Corsair CX750M Power Supply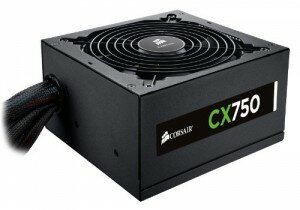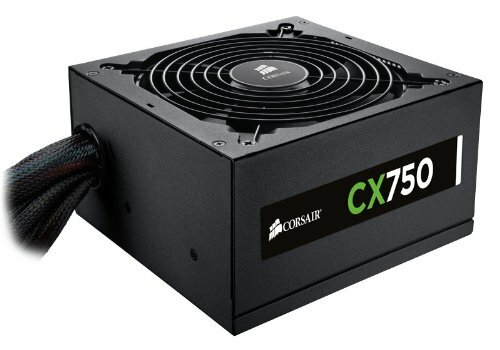 Review Summary
An entry level power supply perfect for medium sized builds. Provides solid power delivery and stable rails even when under load