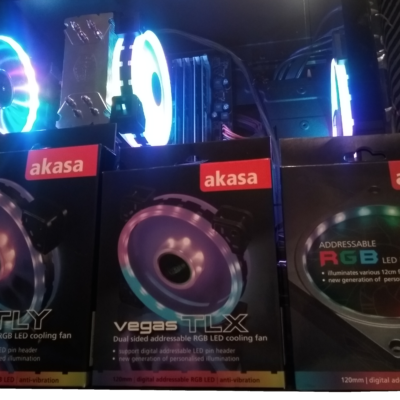 View on Amazon
Great PC case fans with plenty of pushing power. Can be a little loud when at full speed but barely noticable - they look amazing.
Great airflow
Look Amazing
DIY RGB gaming setup lighting can only take you so far and, recently, I have had the opportunity to check out the dual-sided addressable RGB Akasa Vegas TLY and TLX case fans, as well as their Addressable RGB LED Fan Frame Kit. I wanted to do a simple series of tests with my own ITX PC, which currently uses a single case fan for cooling. I also wanted to comment on the style and.
Akasa Vegas Addressable RGB Fan Specs



Images from: 

https://www.akasa.com.tw
Not So Scientific Testing of the Akasa Fans
Unfortunately, I don't have any tools for testing fan performance other than looping the same benchmark with a single fan in my Thermaltake Core V1 Mini ITX Case. This build contains an MSI B450 motherboard, a Ryzen 5 1600, 16GB of DDR4 2400 memory, an RX 580 4GB, a 1TB HDD,a 120GB SSD, and finally a Thermaltake Smart Pro RGB 650W 80+ Bronze PSU.
I tested four fans, the 140mm Akasa Vegas TLY, the 120mm Akasa Vegas TLX, an older but trusty Lian-Li 120mm case fan from an older build, and finally the stock 200mm fan that comes with the Core V1. Each test consisted of a 10-minute loop of Fire Strike's combined test. Results are in centigrade. Unreported parts like the GPU all performed the same in each test.

Testing came out about as I suspected they would. Both Akasa fans performed well enough to keep the system at reasonable temperatures during the benchmark loop, while the older Lian-Li fan got quite a bit warmer. The stock 200mm fan has an unfair advantage in size but it gives an idea of relative performance. The only fan louder than the Wraith Spire cooler or the RX 580 in my ITX build was the Lian-Li fan, so these Akasa fans pass the hearing test. Overall, the Akasa fans performed acceptably and stayed within a reasonable volume, but moving some air is just part of the story when it comes to the Akasa Addressable Vegas TLY and TLX fans.
Why You Really Buy Addressable RGB Fans

From left to right: Akasa Addressable RGB LED Fan Frame Kit, Akasa Vegas TLX 120mm Fan, Akasa Vegas TLY 140mm Fan.
With addressable RGB these fans are bright, colorful, and really cool looking. Along with the Addressable RGB LED Fan Frame Kit, the Akasa Vegas TLY and TLX look fantastic in my MasterBox Lite 3.1 TG case. My wife noted how much she liked the look of the LED Frame with the reflective blades of the factory case fan.