PC Benchmarks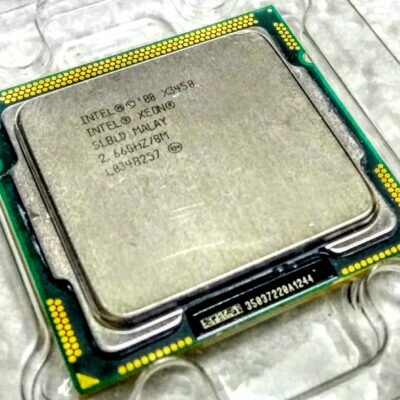 This all started when Ronald Davies asked me to try out some older hardware he had. Ronald had some pre-overclocked settings already saved on the board that we used for testing, along with stock values this would give us some great information on the aging hardware.
Here is what Ronald sent me for testing.
Intel Xeon x3450
AMD HD 4890
16GB (2x8GB) DDR3-1600
ASRock P55 Extreme4 Motherboard
To add to, what I felt was the realism of someone using an old gaming system today, I added:
EVGA 100-N1-0550-L1 550W Power Supply
160GB 7200RPM HDD for the OS
1TB 7200 RPM HDD for games
Hyper 212 LED air cooler
DIYPC Alpha-DB6 test bench
The x3450 CPU Ronald was able to achieve a 3.8GHz overclock on was pushed hard on the Hyper 212 LED. In AIDA64 the 3.8GHz overclock peaked at 74c, however, the 3GHz overclock with a 3.6GHz turbo clock was maintaining a much cooler 55c.
In the upcoming benchmarks, Stock refers to the 2.66GHz speed of the chip stock, with a memory speed of 1333MHz. OC refers to the 3.8GHz overclock speed achieved by Ronald, however, memory was unstable on this overclock above the 1000MHz setting; I actually really liked this, I felt it added a very realistic roadblock when it comes to tuning a system for all it can give. Finally, OC2 is the 3GHz overclock with the 3.6GHz Turbo speedrunning the RAM at 1500MHz.
I ran a number of synthetic and real world tests using the original system and some additional GPUs I already had. Ronald had asked me to test the HD 4890 in crossfire, but it being unable to run even DX11 titles, I was against it. Maybe we can do that in a Part 2 of these benchmarks. Also tested in this system was an HD 6950 1GB, an RX 460 2GB, and an R9 290 4GB. I wanted to test using my Vega 64 as well, but during testing it was out for an RMA. Every game was tested with its lowest settings, and every benchmark was tested in 1080p using the newest DirectX available for each card.
Benchmarks
Synthetic Benchmarks
Unigine Sanctuary


Starting with Unigine Sanctuary we can see the HD 4890 being the bottleneck, with both stock and overclocked speeds having similar results.
Unigine Tropics


Again we have the HD 4890 maintaining similar scores across different CPU clocks. I believe we are seeing lower memory speeds affecting the benchmark more than the CPU speed with the more powerful R9 290 in this test.
Unigine Valley


We are seeing similar results as before, though I am not sure why the HD 6950 was able to pull ahead of the RX 460 here.
Unigine Heaven


Again with similar outcomes in Heaven as with the other benchmarks.
Unigine Superposition


Of course, the HD 4890 was unable to even run Unigine Superposition.
3DMark Cloud Gate

I was originally only going to run Fire Strike from 3DMark, but the HD 4890 was unable to run the benchmark.
3DMark Fire Strike
Again the HD 4890 was unable to run this benchmark.
Cinebench

The 3.8GHz overclock does report incorrectly in some software.
Gaming Benchmarks
Paladins

I didn't want to do more than a couple runs in Paladins. With the random hero selection and random maps, this was more of an overall experience test. FPS was recorded using Fraps. All the hardware tested, in each configuration, was able to give a nice experience in Paladins. There was a lot of variance in frame rates, mostly due to the limited and random testing procedure of "just queuing up and having some fun".
Warframe

Warframe is another game that runs on low end systems quite well. All testing was done just by "queuing up and having some fun" and using Fraps. Again, we see the same variation from random maps and warframes being selected.
Grand Theft Auto V

Here we used the lowest settings available at 1080p. GTA:V has a great feature where you can see the VRAM usage in the graphics options. The game was tested on the lowest settings using the in-game benchmark. The RX 460 gave me some interesting results, multiple times, being inconsistent with the other hardware. Having a much higher minimum FPS and scoring second highest in average FPS. This anomaly could definitely be user error, but I am not sure what could be the cause. In any case, the x3450 does a great job of not being a huge bottleneck to the more powerful GPUs in the testing. However, the HD 4890 cannot keep up in the PC version of GTA:V, released in 2015 (2014 for consoles).
Warhammer 40,000: Dawn of War III

Selected because it is a modern title (2017), with a built in benchmark. The HD 4890 was unable to run this game, but the x3450 was able to give some great average frame rates in testing. Testing was done with the in-game benchmark using the default settings given during the first launch with the HD 6950. (I did screenshot those settings, but forgot to save said screenshot before formatting the testbench HDD.)
Far Cry 5
Finally we have the 2018 title: Far Cry 5. Again, the HD 4890 was just unable to even run the game. Everything was tested with the lowest settings at 1080p using the in-game benchmark.
Conclusions
How well did the HD 4890 hold up?
If you are playing free games that are known to run on lower end hardware, the HD 4890 still does just okay. However, the card isn't even capable of running DX11 titles. With DX12 not being mainstream at this time, DX11 cards are at the least, still capable of running the majority of games.
How well did the x3450 hold up?
The x3450, or any 1156 i7 equivalent, did a fantastic job. While there was some memory instability at the higher clock overclock, the platform still ran like a champ, albeit hot. At the mid-range overclock with turbo on, it was a capable CPU running a much more comfortable temperature. I want to include another Fire Strike comparison below, showing this test system against a couple of others using the same GPU. Please be aware that the Haswell based system was using a much older graphics driver. It was included to show the physics benchmark comparison. But, even against a newer Ryzen system, this x3450 build surprised me.

Final Thoughts
I really enjoyed these tests, including the not-so-scientific portions of testing. I feel they gave a great real-world perspective on the hardware and upgradeability of an older system. Sometimes overclocks and upgrades don't go as well as you hope.
The 1156 platform is still a capable of some solid performance in gaming. There is room for some great budget upgrades if you are already on the platform with an i5 or i3. As the HD 4890 can't cut it anymore, some inexpensive GPU upgrades gave some great performance gains. It might be worth taking advantage of used parts to get your older system a bit more up-to-date. With the framerates we were seeing, pairing a FreeSync display with a compatible GPU would give a great experience.
So don't toss out your old hardware, parts of it can still live on as a capable gaming machine; perfect for gaming on a budget or as a pay-it-forward build.