PerformancePSU Verdict:
4.8
/
5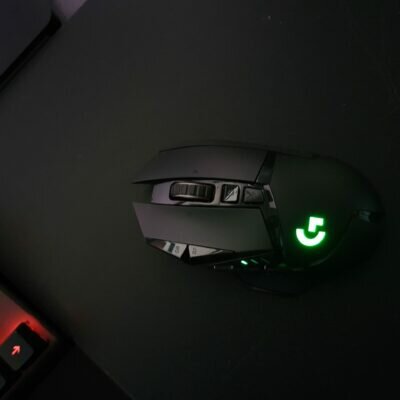 View on Amazon
This mouse lives up to its predecessor providing amazing functionality, utility and customisation options to suit any need. This mouse really shines in multimedia, desktop and editing activities.As a result, this has now become the main mouse for our editing and programming system.
RBG Lighting
Fast Response Times
Ergonomic
Powerplay compatible
Accurate
Perfect for RTS & MMORPG Games
You might think the words wireless and gaming mouse don't belong in the same sentence – I used to be one of those people but stay with me for a second before you lose all respect for this offering by Logitech.
Logitech recently blew my mind on wireless gaming mouse technology, with their re-engineered and re-imagined G502 Lightspeed Gaming Mouse, which Logitech claims; brings great click response rates and fantastic accuracy, smooth action, and gaming-orientated design features.
Well, I like tests, so let us see, shall we? This is my Logitech G502 Lightspeed review; Is the G502 gaming mouse the best on the market? At the time of writing it can be picked up on Amazon for around $110.
Let us find out by starting with the specifications.
You might also like: Best FPS Gaming Mice used by eSports Players
Logitech G502 Lightspeed Specifications
The Logitech G502 lightspeed gaming mouse has a lot to live up to. Previously, the G502 held a place in our hearts as a great performing mouse, so the question begs, did they butcher what was once one of the best gaming mice? On paper, the G502 has impressive specifications being able to run as a wired mouse for those with trust issues as well as being able to run via the USB lightspeed dongle or a compatible Powerplay mouse mat.
If that was not already impressive enough, this latest offering from Logitech features an adjustable 25,600 DPI Hero optical mouse sensor for pin point precision, RGB lighting and a polling rate of just 1ms (1000hz).
| | |
| --- | --- |
| Lighting | Full-spectrum, fully-customizable LIGHTSYNC RGB |
| Sensor | 25,600 DPI Hero optical |
| Connectivity | Wired & USB lightspeed wireless, Compatible with Powerplay |
| Key features | Ultra-fast scrolling, Powerplay Compatible, RGB Lighting, Onboard Memory |
| Wireless Polling Rate | 1000hz (1ms) |
| Weight | 114g |
| Dimensions (HxWxD) | 132mm x 75mm x 40mm |
| Materials | Mix of hard and soft-touch plastic |
| Price | Check on Amazon |
What is Lightspeed Technology?

Good question! Lightspeed is a new Technology developed by Logitech that claims to provide 1ms response times, top-tier gaming performance and with no wires. Logitech refers to this technology on its information website
LIGHTSPEED is an end-to-end wireless solution that delivers low-latency and reliable performance. Wireless freedom is now a reality for all gamers.
The onboard 32-bit arm processor likely has a bit to do with the price increase over the Hero and the R&D costs associated. However, they do have a massive list of professional eSports players using their hardware in tournaments, playing for big money, so the question is – Is it worth the extra money?
Optical 25,000 Hero Sensor
The G502 Hero has a DPI of 16,000, the Lightspeed variant offers 25,000 DPI using its HERO 25k Optical Sensor. Feature and functionality wise they are all the same, coming with forward and back buttons for navigating web pages as well a programmable 'quick aim' button.
Programmable Macro Butttons
In total, this mouse has six programmable buttons if you include the mouse wheel.
Logitech G502 Lightspeed Gaming Mouse Unboxing




Neatly packed, the Logitech G502 Lightspeed mouse comes with Lightspeed USB Dongle, Charging Cable, 4 x 2g weights, 2 x 4g weights, Documentation.
Logitech G502 Aesthetics

Out of the box, The G502 Lightspeed is identical to the G502 Hero – its predecessor. The mouse is aggressively styled to match a large number of gaming setups with its striking angles and straight lines. This is definitely a mouse for those of you that have larger hands.
This is quite a giant mouse that will likely feel quite big in a small hand. In hand, this mouse feels ultra-premium, with a mix of hard and soft-touch plastics that are aesthetically pleasing both to touch and to look at.
Logitech G502 Lightspeed Software & Customisation
Logitech's G Hub is its own proprietary software that controls all of its RBG based hardware. It's a well thought out, robust solution that has a great user experience. You can choose to customise the colours and effects yourself, or you can use their built-in download centre to find a premade profile to match your gaming needs.
RBG Lighting matches perfectly with other products in the Logitech range.
Performance Customisation

The Logitech G502 software also provides plenty of performance optimisation options. It allows you to control the DPI and the Polling Rate, which is perfect for customising the mouse for your needs. I have multiple settings depending on whether I have gaming, programming or writing.
Logitech G502 Lightspeed: Real-world Usage
I'm a programmer by day, which means I spend a lot of time scrolling up and down through code. So I found the mouse's shape and infinite scrolling feature to be by far its best features alongside response times. Being able to whizz through 3000 lines of code in a flick of the wheel is excellent for my work productivity and saves any injuries from long term use such as RSI.
G502 Lightspeed for Gaming

I used the G502 in plenty of games titles from World of Warcraft, Valorant, CS:GO, Dota 2, Starcraft 2 and more. Once you adjust to the size of the mouse in your hand, The accuracy of this mouse is outstanding, and the response rates when clicking.
While I felt the marketing was aimed at FPS players, I found this mouse shined in RTS and MMORPG titles because of the extra programmable buttons. Don't get me wrong, its no Razer Naga but those extra three buttons are great for custom macros and quick to reach spells – highly under-rated.