PerformancePSU Verdict:
4.4
/
5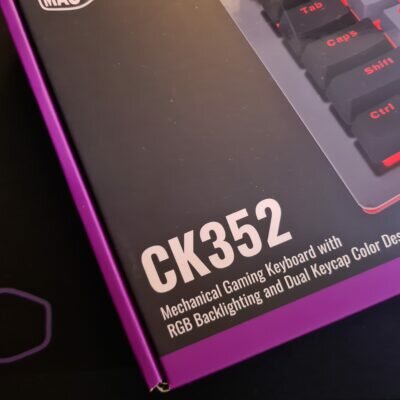 View on Amazon
Cooler Master's CK352 Mechanical Keyboard is decent to use both at work and while gaming. Keypresses are smooth with positive action and provide little resistance when pressed but coming with a positive mechanical clack letting you know you have pressed a key. The standout RGB lighting make this keyboard a budget keyboard winner. Budget is the keyword here and price reflects what you're getting. We would have like to have seen software support and more customisation options.
Price
Build Quality
RGB Backlighting
RGB Mood Strips
Low Profile
Cooler Master has been manufacturing industry-leading hardware since 1992. In that time they have gone through several visual rebrands but, one thing has never changed – the quality of the hardware they produce. When I was presented with the opportunity to get my hands on one of their RGB mechanical keyboards and a mouse mate with a patented fabric – I jumped at the chance.
Today, I am going to review Cooler Master's CK352 mechanical RGB keyboard and their MP511-XL mouse matt.
On the surface, Cooler Master's CK352 seems too good to be true with an impressive list of specifications. The most impressive of them all is its price with the CK352 currently on offer for £69.99 in the United Kingdom (Around $90USD).
The mouse matt, MP511-XL currently retails for £34.99. Perfectly priced for the size and quality however they have two other sizes available, the regular (£24.99) and the XXL which is even bigger than the one I am using with this keyboard priced at £44.99.
Initial Impressions

When looking at keyboards that are generally at the budget end of the scale I always reserve judgment until I see them in the flesh but, my initial impression of Cooler Master's keyboard upon opening the box had me speechless to say the least – £70 for this?! no way!

The sleek aluminium top body is an immediate standout feature. Not only is it highly visual on the eyes and nice to the touch, but it also serves a practical purpose; It helps the CK352 mechanical keyboard look sleek and low profile. Against the deep black of the MP511 mouse matt, it looks inspiring.

Cooler Master cleverly opted for two-tone keycaps helping to define important areas on the keyboard and add to the overall edgy, gamer design vibe that the keyboard commands.
Aesthetics

The CK352 features a minimalistic design that is pleasing the eye and has the potential to elevate your gaming desk.

Programmable RGB backlit keyboard with floating keycaps.

The keyboard features two RGB rings around the edge of the keyboard which can be configured via shortcuts on the keyboard.
Performance

With how beautiful the CK352 RGB keyboard is and, how much effort went into the visual design, I honestly thought the performance of this keyboard would be pants (sorry, Cooler Master) but, they surprised me, once again they have pulled the cat out of the bag with this keyboard being an exceptional performer in all categories. Period.
It should be noted that I am testing red switches.
Gaming
This keyboard's primary market I suspect will primarily be the gaming type. The type looking to improve their gaming setup and elevate their gaming prowess.

After several hours of intense gaming, I can honestly say that this keyboard improved my gameplay. During intense DOTA2 team fights, I found myself being more accurate with my keystrokes and pressing my other abilities less when compared to my Steel Series TKL Pro which may I add, is currently well over double the price of Cooler Master's offering coming in at £189.99 at the time of writing. That's not a small chunk of change to be throwing about.
Overall, gaming performance is on par with more expensive keyboards available on the market.
Typing
When I am not reviewing articles, I am working with clients to help realise mobile & web applications from concept to completion. Naturally, this involves a lot of typing, keystrokes and keyboard shortcuts for extended periods of time.
This keyboard is perfect for long periods of work with no pain or fatigue in my hands or fingers. Keys are linear in their motion and provide no click or clack making it perfect for quiet environments where other people are also trying to concentrate.
The MP511-XL adds another layer of complexity to the experience. I feel this is where their Cordura fabric really shines. It's comfortable on the wrists, soft to the touch and does not cause excessive rubbing which, over time can become quite sore with some mouse matt but it doesn't seem to be an issue here.
Overall, it's a pleasant experience using this keyboard and mouse matt combo for long periods of keyboard typing.
Lighting Controls

So far, you might be wondering how Cooler Master can possibly give you all of this hardware and functionality in one package? Well, the answer lies in the lighting controls. All of the lighting controls for the keyboard are changed via shortcuts on the keyboard using the Cooler Master button.
The Cooler Master buttons allows you to access the keyboard's lighting controls which allow you to not only change the backlight mode or colour but also give you the ability to change the RGB lighting strips they have placed down the side of the keyboard.
They have given you a bunch of colour presets letting you choose a quick colour on the fly otherwise, you can make your own colours using the Red, Green and Blue shortcuts placed at the top of the keyboard.
Conclusion
Cooler Master has impressed me once again with their latest budget-level mechanical keyboard offering; The CK352 RGB Gaming Keyboard with Red Mechanical Switches is a dream to use and look at for the price point. This is a potent gaming keyboard that is packed with a host of features that allows it to compete with more expensive keyboards on the market coming with RGB Lighting, an aluminium body and even a choice of red, brown or blue switches.
My only gripe is the lack of software support. While it doesn't pose an issue using the keyboard out of the box, for us lazy humans such as I myself, I would like the ability to instantly sync the colours to the rest of my Cooler Master hardware such as the MM730 Gaming Mouse.
Overall at a price point of just £69.99 ($90USD) this is a cracking keyboard for the budget-conscious gamer. Not only does it spar with the big boys in terms of looks, but its performance is also up there too.
If you can look past the lack of software support and see this for what it is; a keyboard, then, it's easily worth the investment and more.