PerformancePSU Verdict:
4.4
/
5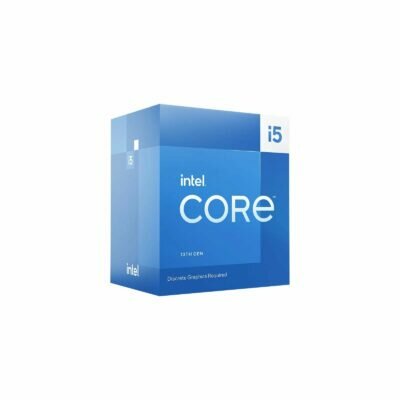 View on Amazon
Intel's 13400F, released in January 2023, is the perfect CPU for the budget-conscious gamer or hobbyist video editor. Coming equipped with 10 physical cores and a total of 16 threads, the Intel 13th Gen i5-13400F desktop processor has what it takes to keep up with modern computing demands while not breaking the bank in the process. The Intel 13400F seems to have similar performance scores as an Intel 12600K but, is £80 cheaper. If overclocking is not your thing - save some money and pick up this CPU instead.
Amazing Performance
Budget Friendly
Gamer Certified
Hobbyist Video Editing
Most of the time, you hear outlets raving about the flagship processors but not so much do we hear about CPUs at the lower end of the budget. Based on the specifications alone, Intel's 13400F LGA1700 CPU codenamed Raptor Lake is looking to be the perfect budget gaming processor if your bank account is feeling the pinch right now and you don't have flagship money to spend out on a brand-new, top-of-the-range processor (Currently £209 in the UK with no price found in the USA).
Thanks to Intel who provided this review sample, we are going to be taking a closer look at their latest desktop CPU offering and see if it is capable of keeping up with modern titles and computing demands.
Specifications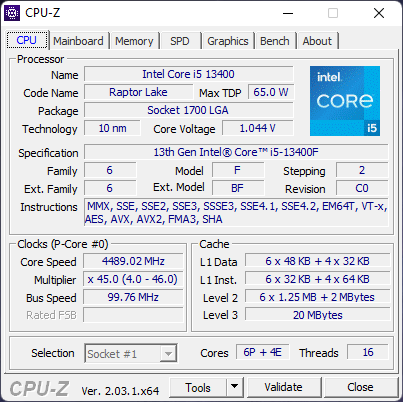 Intel Core 13th Gen i5-13400F specifications
Total Cores
10
# of Performance-cores
6
# of Efficient-cores
4
Total Threads
16
Max Turbo Frequency
4.60 GHz
Performance-core Max Turbo Frequency
4.60 GHz
Efficient-core Max Turbo Frequency
3.30 GHz
Performance-core Base Frequency
2.50 GHz
Efficient-core Base Frequency
1.80 GHz
Cache
20 MB Intel® Smart Cache
Total L2 Cache
9.5 MB
Processor TDP
65 W
Maximum Turbo TDP
148 W
The Intel Core 13th Gen i5-13400F is a 10nm processor that has 10 physical cores, 16 threads and supports DDR4 up to 3200 MT/s and DDR5 up to 4800 MT/s coming equipped with 20MB of L3 Cache, 9.5MB of L2 Cache and a max TDP of 65w – pretty impressive.
As we found with the 12-series processors though, physical core count is not that simple. Six of the ten physical cores available are Performance-cores (P-cores) and the remaining four are Efficiency-cores (E-cores). This arrangement of cores has been designed to be energy efficient and capable of providing raw gaming and video editing performance at a budget price point.
Specifications were taken from the Intel Product Information Page
Comparison

Intel Core 13th Gen i5 CPU Comparision
Cores
P+E/T
P-Core
Base
P-Core
Turbo
E-Core
Base
E-Core
Turbo
L3 Cache
(MB)
Base
(W)
Turbo
(W)
i5-13600K

6+8/20

3500mhz
5100mhz
2600mhz
3900mhz
24mb
125w
181w
i5-13600KF

6+8/20

3500mhz
5100mhz
2600mhz
3900mhz
24mb
125w
181w
 
i5-13600

6+8/20

2700mhz
5000mhz
2000mhz
3700mhz
24mb
65w
154w
i5-13600T

6+8/20

1800mhz
4800mhz
1300mhz
3400mhz
24mb
35w
92w
i5-13500

6+8/20

2500mhz
4800mhz
1800mhz
3500mhz
24mb
65w
154w
i5-13500T

6+8/20

1600mhz
4600mhz
1200mhz
3200mhz
24mb
35w
92w
i5-13400
6+4/16
2500mhz
4600mhz
1800mhz
3300mhz
20mb
65w
148w
i5-13400F

6+4/16

2500mhz
4600mhz
1800mhz
3300mhz
20mb
65w
148w
i5-13400T

6+4/16

1300mhz
4400mhz
1000mhz
3000mhz
20mb
35w
82w
Test System

PerformancePSU Test Rig
CPU
Intel 13400F 20M Cache 10-Core 16-Thread running at 4600Mhz
Motherboard
Gigabye Z690 Gaming X
RAM
Corsair Vengeance (Samsung) 32GB DDR5 – 36-36-36-76 2T
Power Supply
Corsair RM1000
Graphics Card
Gigabyte Gaming X Trio 3080Ti
Cooling
Custom EKWB Liquid Cooling Loop
Monitor
LG 27GN88A 2560×1440 (1440p) @ 144hz
Over the course of 2023, we are going to be reviewing more and more hardware. We are going to keep our base system the same so that our results can easily be interpreted. Shortly following this article, we will release our review and benchmarks for the 12900K we have in our possession too.
Benchmarks & Testing
We are still submitting a lot of our results to HWBOT still, so most of the benchmarks we use are accepted there too. If you're an overclocker or want to get into competitive overclocking, head over to the HWBOT website and see what it's all about.
Cyberpunk 2077

Cyberpunk 2077 Settings
Resolution
2560×1440 (1440P) @ 144hz
FOV
90
Texture Quality
High
DLSS
Quality
Screen Space Reflections Quality
Psycho
Ray Tracing
Psycho
When I first got into the enthusiast scene, Valve's Source engine and Far Cry were the go-to games to bring a system to its knees. Today, that crown goes to Cyberpunk 2077. The CPU didn't really break a sweat, even in this highly demanding game never breaking 55% CPU usage throughout the entire test showing we are bottlenecked not by this entry-level CPU but by our very expensive GPU.
Intel 13400F – Cyberpunk 2077 Benchmark Results
Average FPS
86
Min FPS
60
Max FPS
122
Our test bed with the Intel 13400F Core i5 processor installed managed an average FPS of 86, a low of 60 FPS and a high of 122. While our test rig was not able to hit our monitor's 144hz refresh rate, it was still a pleasant experience.
Shadow of the Tomb Raider

Shadow of the Tomb Raider Settings
Resolution
2560×1440 (1440P) @ 144hz
Texture Quality
Ultra
Texture Filtering
16x Anisotropic
Ray Traced Shadows
Ultra
Level of Detail
Highest
While this game was made in 2018, it received substantial Ray Tracing updates which makes it a good benchmark target for this CPU. It's a stunning game that is still capable of challenging most systems today.
Shadow of the Tomb Raider – CPU Game
Average FPS
201
Min FPS
147
Max FPS
267
Shadow of the Tomb Raider – CPU Render
Average FPS
201
Min FPS
412
Max FPS
166
It would be wise to mention that Shadow of the Tomb raider stated our test rig was 87% GPU bound with everything on their highest settings which is quite significant. We didn't see CPU usage above 50% at any time during the test either meaning that once again, the CPU was definitely not limiting performance.
F1 22 – Max Settings

F1 22 Settings
Resolution
2560×1440 (1440P) @ 144hz
Ray Tracing Quality
Ultra
Ray Traced Shadows
On
Lighting Quality
Ultra
Ambient Occlusion
HBAO+
Texture Streaming
Ultra
F1 22 is a stunning game that has a lot of dynamic lighting and weather effects to push this CPU to the limits of what it can do. For F1 22, we tried our best to use the most graphically taxing track and presets possible alongside maxed-out graphical settings.
F1 22 Benchmark Results
Average FPS
102
Min FPS
92
Max FPS
114
The benchmark was run on the Singapore track in the wet. When paired with a 3080Ti, the Intel 13400F managed an average FPS of 102 with a low of 92 and a high of 114.
3DMark Time Spy

In the Time Spy test, this CPU scored 13082 in the CPU test and a combined score of 18802.
Intel 13400F – 3DMark Time Spy Benchmark Results
Combined Score
18802
CPU Score
13082
3DMark Firestrike

Intel 13400F – 3DMark Firestrike Benchmark Results
Firestrike Score
33181
Cinebench 2003

Intel 13400F – Cinebench 2003 Benchmark Results
Single-core
1563
Multi-core
6660
CPUMark

Intel 13400F – CPUMark Benchmark Results
CPU Score
27378
SuperPI Mod

Intel 13400F – SuperPI Mod Benchmark Results
1M
8.130s
32M
6 Minutes 54.267 seconds
Geekbench 5

Intel 13400F – SuperPI Mod Benchmark Results
Single-core
1779
Multi-core
12210
Cinebench R23

Intel 13400F – Cinebench R23 Benchmark Results
Single-core
1726
Multi-core
15676
Overclocking
Intel F processors, unfortunately, do not come with an unlocked multiplier meaning that any overclocking must be done via the BCLK. Unfortunately, it seems our current Z690 motherboard doesn't like any sort of BCLK adjustments and straight-up refuses to boot. From our research, we would need a B550 motherboard which we simply don't have. We are highly disappointed considering the impressive temperatures at idle and under load at stock settings.
If you are looking for a CPU that you can overclock, then you will want to purchase an Intel K or Intel KF processor which both come with unlocked multipliers allowing you to easily tweak the CPU frequency. If you don't need integrated graphics, then look at the KF CPUs.
Final Thoughts
While we don't currently have much of our own data to compare this CPU to (We are working on it), we can compare it to the real-world performance of our Intel 12900K which runs our test bed on a day-to-day basis. Windows performance was terrific with no perceptible slowdown in operation in comparison to the 12900K and gaming was still a smooth experience.
So, who is this CPU for? We would say this is aimed at the low to mid-range PC build coming in at roughly £209 in the UK (Price in USD unknown at this point) depending on where you shop. As our benchmark in Cinebench proved that this CPU is more than capable of handling video editing tasks as well as anything else you want to throw at it. While you might not be encoding videos at record speed, you definitely won't be waiting for the paint to dry
While it might not as fast as Intel's flagship 13900K having similar performance to a 12600K, in an economy where everyone is struggling, this might just be the perfect gaming CPU for the budget-conscious builder freeing up more money for a more powerful GPU. Most modern-day gaming computation takes place on the GPU, Intel's 13400F is more than capable of keeping up with a-list titles providing more than enough grunt with its 10 physical cores and rarely breaking 50% CPU usage when gaming.
Overall, Intel 13th Gen i5-13400F desktop processor really impressed me with its overall performance and low cooling requirements running at just 11*c at idle. My only gripe was this processor's lack of overclocking potential, but, that's just me being picky.