PerformancePSU Verdict:
4.8
/
5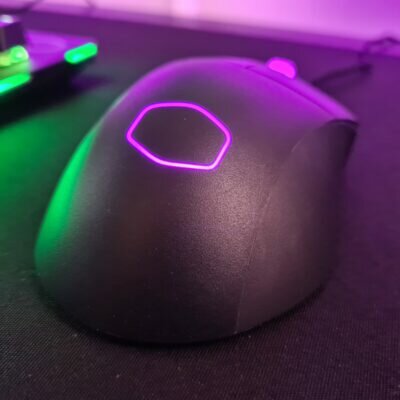 View on Amazon
Cooler Master's latest gaming mouse offering packs a punch. Weighing in at just 49g, while still providing bells and whistles is astounding. The PTFE feet make this a super smooth mouse which proved valuable in fast-twitch games such as FPS games. Overall, this mouse has impressed me hugely. What makes this package more attractive is the quality of the RGB lighting which is rich, vibrant and can easily cover the full spectrum of colours with no flat spots at all.
Lightweight
RGB Lighting
Premium Feel Despite Low Weight
Amazing Click Feedback
Strong, vibrant purple lighting
When we was sent a press release earlier this month detailing Cooler Master's latest gaming mice offering, the Cooler Master MM730 RGB Gaming Mouse; I just knew I needed to get my hands on a specimen to review. This new RGB gaming mouse claims to be one of the lightest on the market without having to result in machining holes into the mouse's body which is music to my ears.
If the promise of being lightweight is not enough, CM engineers did a great job of cramming a high DPI PixArt sensor, RGB lighting, and Optical Switches rated for 70 million clicks into the package too which is nothing to be sniffed at.
Thankfully, Cooler Master was kind enough to send over a review sample for me to take a look at so we can better understand what all the hype is about.

This article may contain sponsored links that PerformancePSU may make a small commission on, which goes towards the running costs of the server.
You might also like: Cooler Master CK352 Mechanical Keyboard Review – Red Switches
Specifications
| | |
| --- | --- |
| Grip Type | Palm / Claw |
| Material | ABS Plastic / Rubber / PTFE |
| Colours | Black / White |
| LED | 16.7 Million RGB |
| Sensor | Pro-Grade PixArt 3389 Optical Sensor |
| CPI / DPI | 400-800-1,200(Default)-1600-3200-6400-16000 |
| Tracking Speed | 400ips |
| Sensor | PixArt Optical Sensor |
| Lift Off Distance | < ~2mm / Adjustable |
| Polling Rate | 125 / 250 / 500 / 1000 Hz (Switch via software) |
| Mouse Acceleration | 50g |
| Switches | Optical Switches, 70 Million Clicks |
| Buttons | 6 |
| Connectivity | Wired |
| Software | Cooler Master MasterPlus+ |
| Weight | 48g |
| Warranty | Two Years |
Initial Impression

Unboxing the MM730 was a simple experience with robust packaging that protects the product well during transit. The box contains a simple instruction booklet, a set of mouse grips, the mouse, and some cardboard packaging. Upon removing the mouse from the box, you are immediately greeted by the smell of fresh PC hardware.
From my experience, a lightweight gaming mouse is normally a marketing term of 'cheap plastic mouse' but Cooler Master's MM730 gaming mouse is different. When you open the box and remove the mouse from its packaging, you can tell Cooler Master's engineers have put a huge amount of time into producing a premium product.
Feels Premium
As with all their products, Cooler Master went above and beyond with the materials used on this mouse. You are immediately greeted by premium wiring that is soft to touch and doesn't easily get tangled out of the box.

To the underside of the mouse, you have PTFE feet which Cooler Master claim provides low friction and higher durability to provide maximum responsiveness. I must say that just by moving the mouse around on your mouse mat, you can feel how smoothly the MM730 RGB gaming mouse glides.
Switch Quality
The MM730 gaming mouse comes with optical switches that are rated for up to 70,000,000 clicks. Upon inspection (and a few clicks), the action is positive without feeling cheap. The click feels premium and something I would expect from a much heavier mouse. Typically, lightweight mice suffer from cheap button syndrome, but this mouse is not one of them.
Added Extras
Provided with the mouse is some configurable grip tape that you can use to enhance the feel of your mouse. Unfortunately, even some of the most expensive gaming mice on the market don't come with such accessories.
Aesthetics

First impressions of the Cooler Master MM730 are great. This mouse has a smooth black body with a semi-translucent Cooler Master icon logo on the front – a minimal but effective design by the Cooler Master engineers.
The logo (and mouse wheel) lighting is configurable via the Cooler Master software allowing you to match the aesthetics to the rest of your gaming setup which I will go over in a later section.
The attention to detail is outstanding with dual-zone RGB lighting, which illuminates the Cooler Master logo at the scroll wheel. When used with the MasterPlus+ software, you can configure up to 16.7 million different colours at the click of a button.
Ergonomics

The ergonomics of the MM730 are unique. I am used to a neutral grip, whereas the MM730 strongly emphasises plan and claw grip types. This is evident from the overly pronounced thumb support on the side of the mouse.
With this in mind, you may find you need a little bit of adjusting to get used to the new grip type.
Performance

I play the usual MMO games when I am not programming software applications such as Counter-Strike: Global Offensive, DOTA2, League of Legends and Starcraft. As you might know, all of these games require precise mouse control to excel at game. I thought these titles would be a great place to start,
Overall, I found this mouse to be a great gaming performer when compared to more expensive models such as Logitech's G Pro. The optical switches provide ample feedback and have a reasonable fixed actuation point. However, clicks do not feel cheap, and I cannot detect any discernable input lag between clicking and actions on my screen.
MasterPlus+ Software
I mentioned before this mouse comes with configurable RBG lighting. To get explore the 16.7 million colours available you will need to pair the mouse with Cooler Masters MasterPlus+ Software. This software comes with huge support for a wide range of Cooler Masters PC cases, Cooling solutions and PC peripherals.
Lighting Configuration

The software is robust and provides ample control over the dual-zone RGB lighting areas allowing you to set colours for both zones. I didn't see anywhere that allowed me to set different colours for the logo and the mouse wheel however, that doesn't bother me much.
Lighting Presets
The MasterPlus+ suite comes with a healthy array of lighting presets to choose from;
Static – set a single always on colour
Breathing – set a single colour with a breathing animation
Electric Slide – Set a single or random colour that turns on when the mouse moves and turns off when it is idle
Trigger Click – Set a single or random colour that turns on when you click a mouse button
Custom
Off
Mouse Sensor Settings

Outside of the MM730 lighting settings, on a basic level, the software also provides methods to control other aspects of the mouse such as polling rate and the sensors DPI.
For those at the back

I have avoided lightweight mice for many years due to quality and build control issues but, after reviewing Cooler Master's MM730 lightweight RGB gaming mouse, I can honestly say that I will be keeping an open mind going into the future.
This heavyweight gaming mouse clocks in at just 49g, includes configurable RGB lighting and amazing accuracy without breaking the bank. Cooler Master's MM730 build quality is outstanding and really does feel like a premium product in your hand.
Performance is outstanding, keeping up with more expensive mice for a fraction of the cost.