PerformancePSU Verdict:
4.8
/
5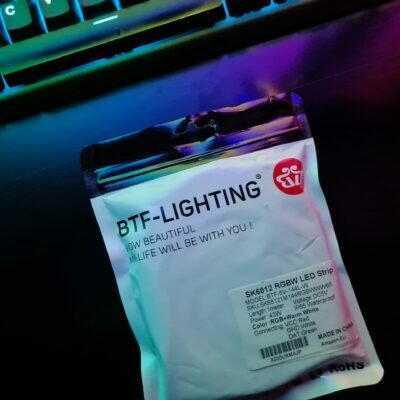 View on Amazon
These are some of the best addressable RGB led lights you can currently get on Amazon. Despite them not liking a 330ohm resistor on the data line they still easily beat the competition due to their colour accuracy and build quality.
Vibrant Colors
Ability to set hues due to the separate white channel
Can be cut to any length
Easy to work with
I'm going to review a product by BTF Lighting – The SK6812 RGB LED lighting strips. I've been exploring different manufacturers in a bid to find the best LED strip for my own personal projects
Ok, ok! I hold my hands up and admit right it; I have a little addiction to RGB Lighting after recently discovering Arduino's and aRGB led strips.
I have made floor lamps, desk lamps and even have installed an Ambilight setup behind my pc monitor, I've tried many different LED strips including WS2812B. But, these particular addressable RBG led strips are not your run-of-the-mill LED strips – They also include white channels for ambient lighting when colour is not really required.
BTF Lighting 144 Led/m SK2812 Specifications
| | |
| --- | --- |
| Voltage | 5 volt |
| Connectors | 3 pin |
| Can Daisychain? | Yes |
| PCB Width | 10mm |
| Operating Temperatur | -20 ~ +50°C |
Are SK6812 led strips any good?
You ask good questions! The BTF Lighting SK6812 led strip is a clone of the WS2812B meaning they are also addressable, however, these differ by separating out the white channel giving you separate control but what does this mean for you? Well, everyone has heard of Phillips hue and I am sure you have too.
Their marketing materials are beautiful, aren't they? Behold exhibit A;
Enough procrastination; SK6812 based RGB lighting strips are mostly interchangeable with WS2812/B strips with the exception of the Fastled software which currently doesn't support the chip – not a problem though, we will be using Adafruit's Neopixel Library, WLED and Prismatik to test these strips to their maximum capacity.
As you'll find out shortly, that white channel makes the world of difference.
Inside the Packaging

A clean white packet that doesn't feel cheap, unlike other brands. From the moment I unpacked them, I could tell the quality. Inside the packaging is a roll of led strips with connectors pre-installed allowing you to feed power in as well as daisy-chain your setup.
Connecting to the Arduino

Connecting the lights to our Wemos D1 mini was easy. Due to using more than 10 leds, we had to supply the lights with an external power source as the Arduino board wouldn't be able to provide enough juice.
Do BTF Lighting SK6812 Work with WLED?

I had zero issues using these strips with WLED after going into the LED Preferences and enabling RGBWW, once I did that, they worked flawlessly.
The animations provided by WLED are really crisp and smoother compared to the 60 led per/m set they also offer. I put this down to the higher density of less and less black spots.
Do BTF Lighting SK6812 Work with Prismatik?
Due to not having any color calibration tools, I ended up eye-balling it instead, for my purposes they look deep and highly accurate to the eye. Prismastik's performance is impressive with no observable dropped or lagging frames.
I had originally considered going for the APA102 Led Strips because they have a higher refresh rate but the problem was they don't come in a RGBWW variant. I wanted to be able to use my led strips for mood lighting when I was not gaming or watching films on the Ambilight setup.
Considering the chipset of these led strips are 60fps and my screen is 144hz, these performed much better than I had anticipated.
Color Accuracy
My biggest issue with a lot of LED strips, even ones that are not addressable such as these is the color accuracy and reproduction. Many strips are really good at one color and lack in others. This leads to washed our secondary colors and shades that always look off – normally white.
The BTF Lighting SK2816 144 led/m strips performed perfectly straight out of the box and require almost no color calibration at all.
Hues

I had originally purchased some WS2812B strips and they were great, but they only produced very 'on' and 'off' colors. They lacked the ability to attain the beautiful hues seen in Phillips and LiFx products. These strips are outstanding at setting the mood. When paired with WLED, I was able to select one main color and mess around with the white channel allowing me to set at least 4 different hues.
The separated white-led diode makes the world of difference. I have replaced all the led strips in my setup now with these. Despite the price of these strips, I will be using them for all of my future projects.
Are They Worth the Money?
You might be asking yourself; Are they worth the money? At the time of writing they currently retail on Amazon for $34.99 and they are also one of the more expensive brands selling their led lighting products.
My verdict after trying many different LED strip brands is a resounding yes! They are worth every cent. I have various sets from different batches, some 30 LEDs per meter, 60 LEDs per meter and now 144 LEDs per meter – the color accuracy and reproduction is up there with the best.
The effects you can achieve are outstanding. Pairing ARGB strips with WLED gives me a huge array of animations, colours and even fine-grain control over the white channel.