PerformancePSU Verdict:
4.3
/
5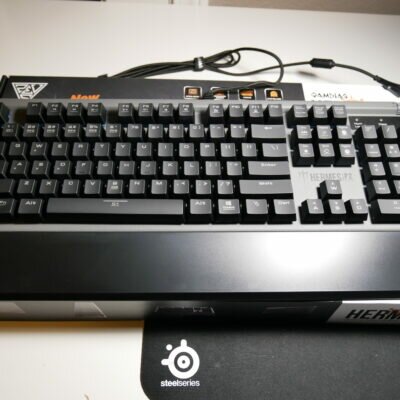 View on Amazon
The variant I was sent was the Hermes P2 with blue switches. Overall, the switch performed much like any other blue switch, I was able to have great tactile feel and a great sound. Another advantage of the optical switch is that you also don't have to fully press the key down to get actuation, which can be a plus for people that don't really press their keys all the way down. At the current price the Hermes is a great keyboard that will definitely last a while, if the keyboard is on sale, this keyboard is a no-brainer to pick up.
Optical Key Swithes
Great feeling Key Caps
Sturdy Construction
Lots of RGB!
Gamdias is a company that has been around for a while. The first time I noticed them in the market was when they released their first gaming mouse and it did well at the very in a short period of time. Gamdias is known for its awesome-designed mice with great switches and a reliable sensor.
Today we are going to take a closer look at the Gamdias Hermes P2 RGB keyboard, coming in at $149.99 USD or £69.99 for those of you in the UK.
Keyboard Features
Revolutionary Gamdias Certified Optical Switches: Optical switches are equipped with the latest light reflection technology with a vertical light beam to work even under a bent PCB and an individual switch can be swapped if needed.
Individual Hot Swappable Keys: Simply remove and swap a key switch on an individual basis.
Brilliant Illumination: 16.8 million RGB backlighting immerses you in the game with virtually unlimited lightning adjustability. Personalize and Customize.
Ultra-Comfort: Specially designed for Hermes P2., the ergonomic wrist rest provides the comfort you need for prolonged gaming sessions.
Durable, Stylish Design: The sturdy and solid metal faceplate is built to superior stability and durability.
Ready to Game: N-key rollover, 100% anti-ghosting and 2 dedicated macro keys with 6 profiles up to 12 settings are essential to victory.
HERA software
Keyboard Specification
Dimensions: (WxDxH) 458 mm x 220 mm x 44 mm
Weight: 1.1 Kg
Built-in Memory: 72 KB
Polling Rate: 1000 Hz
Key Switch: Gamdias certified mechanical optical switches
Key Switch Type: Blue/Brown/Red/Black
Switch Lifecycle: 50 million actions
Windows Key Disable: Yes
Cable Length: 1.8 m Braided cable with Gold-plated Connector
Software: Gamdias HERA
WASD & Arrow Keys Change: Yes
Consecutive Attack Mode: Yes
Unboxing



This unboxing went fairly standard for keyboards. At first glance, this is a typical gaming keyboard layout and the box definitely reflects that as the size of the box is pretty standard for any gaming keyboard. The outside of the box is elegant and its vibrant colors pull you in. The front of the box has an image of the keyboard and also some of the features listed above. The backside of the box has another picture of the keyboard and also lists some of the keyboard specifications.


Once you open the box you notice some manuals, a key cap puller (a nice inclusion at this price point) and the keyboard itself covered in a plastic bag.
Build Quality



Taking a closer look at the keyboard it has a sturdy plastic case with aggressive angles on the sides and the front, bringing a stylish design to this keyboard. The metal faceplate adds to aesthetics and also the premium feel. With the adjustable feet it allows you to place the keyboard at the perfect height.
The key caps are a nice black color that has great etching on them and they don't feel like they could easily fade or be rubbed off. They have a great feel at the finger tips. The keycaps are removable if you wish to change out the keycaps, this also makes it great to change out any of the optical switches.


On the right side of the keyboard, there is a volume wheel that is a nice addition to not having to go into the volume icon in Windows to adjust your sound volume. There are also Macro keys to be able to map to your liking.
What is really special about this keyboard is Gamdias' choice to use an optical switch. This type of switch is rarely used but does have benefits. The optical switch is used by breaking a light beam rather than the traditional switches which use bent pin contacts. The advantage of using an optical switch over a traditional mechanical switch is since there is less moving parts, there is an increased lifespan. These switches come with either linear or tactical switch.
The braided cable also adds a nice touch to an already premium-feeling keyboard.

An integrated wrist rest is also included with the keyboard. While I applaud Gamdias overall for including it, I wish that it was removable. This could reduce the footprint of the keyboard in case you need desk real estate.
Lightning Effects

The backlit RGB keys are bright and vibrant. The 16.8 million colors and 4 levels of brightness allow you to customize your blacklight to your liking. The HERA software allows you to customize your RGB lightning and it overall is really easy to use.