Graphics Cards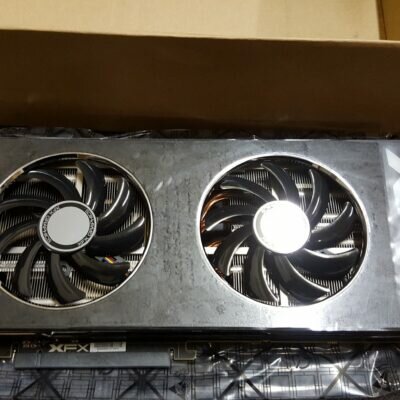 Let me start by saying this obviously isn't a new card, But the R9 290x is still the fastest single GPU card in AMD's stable until we see the 300 series and Fury come out.
So let's see how XFX's take on Hawaii fares shall we?
XFX R9 290x Double Dissipation 4GB Unboxing
The box for the XFX R9 290x Double Dissipation 4GB 290x is a simple design and to the point with its features pointed out in bright yellow letters such as "Unlocked Voltage", "Powertune 2.0" and of course the "Double Dissipation cooler technology".
Inside the box we find a Driver CD with the 14.12 Catalyst Omega driver on it as well as an Install guide for the driver and a quick install guide for the GPU itself.
We also have a Dual Molex to PCIe 6-pin connector and a Dual PCIe 6-pin to PCIe 8-pin connector.

The GPU is in a good-sized and solid anti-static bag and is in a snug shroud made of recycled cardboard
This is a great looking cooler, possibly one of the best I've seen in recent years.
It has two 90mm fans, seven 6mm copper heat pipes and features and all-black shroud with silver chrome accents around the fans and running down the length of the card on either side.
Card Dimensions are: 295mm (Length – I/O Bracket to end of cooler) x 143mm (Wide – PCIe to edge of cooler) x 42mm (Height)
The XFX logo also glows white when the system is powered on and that a big plus to anyone with a motherboard horizontally mounted. You will need an 8-pin PCIe and one 6-pin PCIe power connector and XFX recommends a 750-watt power supply as a minimum.
Not really much happening with the backside apart from the dual BIOS switch and the serial number sticker, a backplate would have been nice for aesthetics but the card is very sturdy as is and the matte black PCB is also a nice touch.
The 290x DD features a Single full-size Display Port 1.2 connection for up to, a HDMI 1.4a port and 2 Dual Link DVI ports
Testing Rig
CPU: AMD FX-9590 @ 5Ghz
Memory: 16GB G.Skill TridentX DDR3 @ 2400Mhz 10-12-12-31
Motherboard: Asus ROG Crosshair V Formula-Z
Graphics Card: XFX R9 290x Double Dissipation 4GB (15.5 Beta Driver)
Boot SSD: Samsung 840 Evo 250GB
Games HDD: Seagate ST4000 4TB
Power Supply: Corsair AX1200i
Tomb Raider (2013)
Tomb Raider (2013) is a reboot of the hugely popular Tomb Raider which sees the beginning story of Lara Craft and is developed by Square Enix
Ultimate Settings (TressFX on)
1080p

1440p

Metro: Last Light
Metro: Last Light is a post-apocalyptic-themed FPS game with stealth and survival horror elements, developed by Ukrainian studio 4A Games
(No PhysX)
1080p

1440p

GTA V (Does it need an introduction?)
Default Settings
1080p


1440p


Batman: Arkham Origins
Batman: Arkham Origins is the third installment in the Arkham franchise developed by Warner Bros and Games Montréal and is set 5 years before the first game (Arkham Asylum)
Maxed out (No PhysX)
1080p

1440p

Middle-earth: Shadow of Mordor
Middle-earth: Shadow of Mordor is an open world action-adventure game, developed by Monolith Productions. The events in the story take place between The Hobbit and The Lord of the Rings.
Ultra Preset (High-Resolution texture pack included)
1080p



1440p

Sniper Elite 3
Sniper Elite 3 is a tactical shooter developed by Rebellion and set in North Africa during WWII, You play as OSS Sniper Karl Fairburne and make your way through multiple countries carrying out your varied missions.
Ultra preset (DX11 Mode)
1080p

1440p

Grid 2
Grid 2 is a racing game developed and published by Codemasters and features numerous real world locations and cities.
Ultra preset (8x MSAA)
1080p

1440p

Synthetic Benchmarks
3DMark Firestrike

Firestrike Extreme

Firestrike Ultra

Unigine Heaven 1080p Extreme Settings

Unigine Valley 1080p Extreme HD Setting

Catzilla 1080p

Catzilla 1440p

Overclocking performance: With the fans set to 100% and the power limit bumped up to +50% I managed to lock in stable clocks for Firestrike with 1150Mhz core speed and 1375Mhz memory speed on stock voltage which resulted in a nice increase in the graphics score in Firestrike
Thermals: Whilst using this card I have never seen the temperatures go higher than 67°C on the GPU core and 77°C on the VRM's (20°C ambient), whilst the vrm's are getting warm the core stays nice and cool compared to the reference model. XFX has a good cooler design here but some additional cooling on the vrm's couldn't hurt.
This is a tough one. The card has gotten quite cheap recently due to the imminent release of the 300 series and this has made it a really nice deal for those looking to upgrade to a newer GPU without spending a great deal of cash but on the other hand it's not exactly the newest card on the market, bang for buck it's a good deal and with over a year's worth of drivers behind it this card is ageing very gracefully and still capable of powering through the latest games and still getting good fps.
I'd like to send a big thank you to the folks over at AMD for supplying me with the 290x to review.
Our Verdict
View on Amazon
Great GPU for 1440p gaming offering solid performance, great looks while being quiet and affordable