PerformancePSU Verdict:
4.3
/
5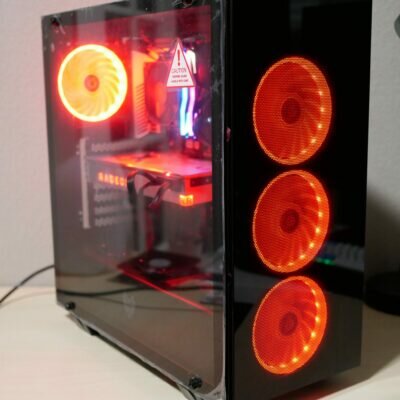 View on Amazon
Overall, I'm continually impressed by FSP. Their amazing build quality has made their cases aesthetically on point in the market and a joy to build in. The CMT510 can house all of your parts and is a competitive case in the RGB/Tempered Glass category. If you are in the market for a new case, take a look at the $109 CMT510.
Tempered glass side panels and front panel
4 x 120 mm RGB fans included
Included RGB controller/Fan hub
Huge cut out upfront to accommodate fans and a radiator
Accurately placed cut outs to be able to handle all your cable routing needs
FSP is well known for its power supplies. The company had a great showing at CES with some new cases and power supplies for the PC market. After we previously took a look at their top tier CMT 520 PC Case, today we will be taking a look at a case that is one step down.
Here is our FSP CMT510 RGB PC Case Review
You may also like: FSP Hydro PTM 750W PSU Review
FSP CMT510 Key Features:
Sophisticated Cool: CMT CMT510 series, 3 see through glass panels to show off your stunning build inside. Premium quality 4mm thick tempered glass for supreme durability.
Dynamic RGB LED Lights: The RGB light control buttons are located on the front panel for an easy access. You can imitate the mood by clicking the RGB icon.
Convenient IO Port Location Design: Two dual 3.0 USB ports for high speedy data transmission.
Aerodynamic Design: Pre-installed 3x120mm RGB LED fans in the front and 1x120mm RGB fan in the rear to give you a cool start.
Easy and Simple Installation: Large predrilled holes for easy cable access and management.
Designed location for PSU: Equipped with dust-free PSU cover to create an ideal environment for your PSU.
30 mm High Foot Stands: Not only prevent bottom surface from scratching, but also enhance heat emission and cooling effect.
Superb Cooling: CMT510 series reserved space for a max of 360mm long radiator and 5 fan mounts. Built-in 4 x RGB 120mm LED fans located in the front and rear for optimal cooling performance.
High Expandibility For Graphics Cards and CPU Cooler: It supports high-end graphics cards with a max length of 400mm.
Plenty of Room Reserved for Your Motherboard: The spacious interior in CMT510 fits all standard motherboards (ATX, Micro ATX, Mini-ITX) for your gaming needs.
FSP CMT510 Case Specification:
Dimensions: (WxDxH) 208 mm x 491 mm x 448 mm
Weight: 8.5 KG
Material: SECC, Tempered Glass
Colors: Black
Motherboard Support: E-ATX, ATX, M-ATX, M-ITX
Drive bay Storage: 2X3.5" hdd, 2X2.5" hdd/ssd
Expansion slots: 7 PCI slots
Power Supply: Standard ATX up to 210 mm length
Cooling System: Rear Fan: 120 mm x 1 (pre-installed), Front fan: 120 mm x 3 (pre-installed) or 360 mm radiator, Top Fan: 120 mm x 1 or 140mm x 1
CPU Cooler Height: 165 mm
GPU Card Length: 400 mm
PSU Length: 210 mm
Side panel: Tinted Tempered Glass side panel
Top I/O: 2 x USB 3.0, 2 x USB 2.0 Headphone Jack, Microphone Jack, RGB selector
FSP CMT510 RGB PC CaseUnboxing




First, let's start with the part of the review that I enjoy almost as fully testing a product, the unboxing. Taking a look at the front of the box, you notice a unique layout with three CMT510 cases displaying three colors that you can select with the RGB fans. It designates that it has RGB fans and is also to be careful when handling as the two side panels are made out of 4mm tempered glass.
One side of the box has some of the features of the case listed. In addition, the back of the box has a picture of a single CMT510.  Lastly, the other side of the box has some of the specifications of the case listed. While the box is stylish, it is tasteful and lets the potential buyer look at the case and some main features and specifications.




Opening up the top of the box, you can notice that FSP used some heavy-duty cardboard for their box. There is also a diagram on one of the side flaps that gives instructions on how to get the case out of the box. First, the case is wrapped in a plastic bag, and then two soft foam pieces secure the case in the box. Finally, a bag secured inside the case contains a PSU mounting bracket, black and white detailed instructions, a few cable ties and all your case screws. While the case screw bag is compact, I wish they used a resealable bag.
A Closer Look at the Case








Starting with the front of the case, you are greeted with a nice large tempered glass front panel tinted.  Intake air is taken from all sides around the front panel.  The front I/O is placed on the top of the case and has 2 USB 3.0 ports, HD audio ports, power indicator lights, a large power button/RGB power/effect button and the FSP logo. The rear of the top of the case has mesh for mounting a 120mm or 140mm fan.
The right-side panel is a tinted tempered glass panel. It is secured by four small thumb screws.  The glass panel is also partially secured by the case feet, which have a lip to hold the side panel while securing or removing the panel. The side panel is see-through, but there is also plenty of room behind the motherboard tray to route cables.  The rear of the case has mounted for a 120 mm fan that can be moved to make room for any clearance issues. Then there is your rear I/O cutout, your 7 PCI slots and lastly, your PSU bracket.
The bottom of the case is pretty plain, with the standard PSU dust filter and a dust filter for a bottom intake fan. While the mesh filters are provided, I wish they were a more high-quality dust filter like those found on the CMT520.  The left side panel is a nice large piece of tempered glass that is secured with thumbscrews. This panel is straightforward to remove and replace.
A Closer Look at the inside








Taking a look behind the right-side panel, you notice right away there is a lot of room to route all your cables. You also notice that there are a lot of cut-outs and tie-downs to be able to manage your cables.  There is also a fan hub/ RGB controller that included being able to control the 4 RGB fans included with the case. To the left of the large CPU cut out are two removable 3.5" drive mounts. Looking at the PSU area, there are feet that your PSU can sit on to dampen any vibration, and the chamber extends the whole bottom of the case, so there is enough room to house a 210mm PSU and hold all the cables.
Taking a closer look at the main chamber, you are greeted by the 4 x 120 mm RGB fans included, 1 in the rear and 3 placed at the front of the case.  Also, there is room behind the fans and a cut out in the PSU bay that can support up to 360mm radiator and the fans at the front of the case. You can also notice the many mounting points for reservoirs and an additional 120mm or 140mm case fan at the top of the case. There is a magnetic dust filter in front of the 3 x 120mm fans at the front. Above the PSU area, there is room to put 2 SSD's. There are nice cutouts to be able to route cables into the PSU chamber. There are also nice cutouts above the PSU areas, which allow easy routing of your USB and HD audio cables at the bottom of the ATX motherboard.
Overall, the interior is fairly standard; all the black interior and included LED fans brings a welcoming aesthetic that will go with almost any build.
Test System and Build Impressions


The system being put in this case is my test bench setup. It consists of the following parts:
CPU: Intel 8600K
Motherboard: EVGA Z370 FTW
Memory: Gskill Ripjaws V 16gb 3200 mhz
GPU: ASUS ROG HD 5870 2GB
CPU Cooler: Corsair H100i v2
PSU: FSP Hydro PTM 850w
Building, in this case, was amazing. I had no difficulties at all. With the included screws and accessories and a screwdriver, I put the parts above in to complete the build in no time. I had no trouble first installing an Arctic Freezer 33 Esports One and GPU in the case. Later I installed the Corsair H100i, and it still was easily installed inside the case.




With the amazing aesthetics of this case and RGB, it makes almost any build complete.