Reviews

I have been looking at a lot of OCPC stuff recently, I've been impressed so far with high quality components that deliver time and time again.
Today, I am going to take a look at their Xtreme 16GB DDR4 2400 Mhz kit.
OCPC Gaming XTREME Series 16 GB (2x8GB) 2400 Mhz Specifications:
Type: DDR4
Capacity: 16 gb
Stock 2133 Mhz Timings: CL 15-15-15-36
XMP 2400 Mhz Timings: CL 16-16-16-36
Voltage: 1.2v
OCPC Gaming XTREME Series 16 GB Unboxing



The OCPC Memory comes in a unique black and red themed box. They make sure that you know that the memory has a lifetime warranty as it appears on the front and back of the box.
Aside from that the box is fairly standard.
Inside the box you find two plastic cases, each one holding a memory module.
A Closer Look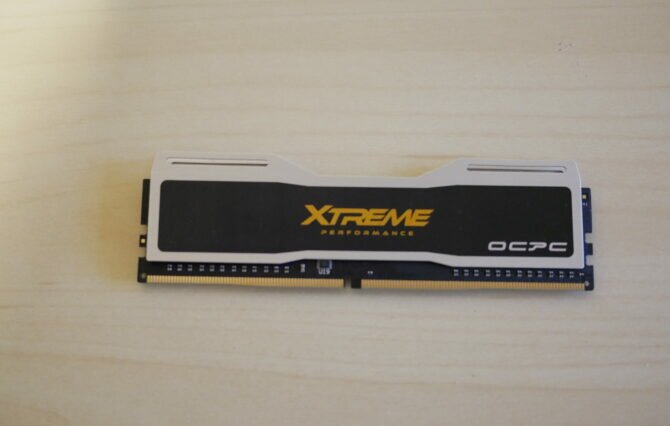 Taking a closer look at the OCPC memory, you notice a great black paint job and a silver border. This design is very simplistic and not flashy but should fit many builds color schemes. The heat sinks are not to tall and they shouldn't interfere with any CPU coolers.
Testing System and Installation
Processor: AMD Ryzen 5 2400g
Motherboard: Gigabyte AB350N Wifi ITX
Graphics Card: Powercolor HD 7870 Myst Edition
Memory: 16gb OCPC 2400 Mhz
Storage: 240g Samsung 850 Evo ssd, 240gb OCPC SSD
Power Supply: XFX TS 750w
Case: Cooler Master HAF Evo XB Test Bench
Tests:
SuperPi (32M): This benchmark stresses the CPU and RAM of your system. It is used to check speed of your system and also stability.
MemoryMark Benchmark: This is a common benchmark that is able to test and score your memory and memory overclock.
Firestrike: A common 3Dmark benchmark to test your PC as a whole.
Ashes of the Singularity CPU Test: The CPU test is used to place a great gaming load on the CPU with lots of calculations being made with the many units on the screen during the test.
Rise of the Tomb Raider: This game is less demanding on the CPU and more demanding on the GPU but is a great title to benchmark game performance.
Cinebench R15: This is a great CPU test to use all of the threads on your processor.
Installation
Installation of the RAM went smoothly. The heat spreaders did not interfere with the Arctic Freezer 33 that I was using to cool the CPU.
Performance
The following are what I believe to be a great group of real world representative tests to be able to stress the CPU and Memory. The testing was conducted with the 2400g at stock clocks 3.6 Ghz and the Vega GPU turned off, so that it is not using any of the system memory. The tests are then conducted at the XMP profile for the Memory (2400 Mhz) and then overclocked using the multiplier of 27 for 2733 Mhz and the following timings below to reach 2933 Mhz:
| | |
| --- | --- |
| Voltage | 1.25v |
| CL | 16 |
| tRCD | 21 |
| tRP | 21 |
| tRAS | 49 |
| tRC | 70 |
Lastly the CPU was overclocked to 3.9 Ghz and the Ram was able to maintain a stable 2666 Mhz. All overclocks were verified to be stable and did not pose any issues during testing.
SuperPi (32M)

Looking at SuperPi 32M, the time to complete all the calculations improved a little bit by the OCPC memory being overclocked. The time was significantly improved by overclocking the CPU to 3.9 ghz and the ram a little bit to 2666 Mhz.
MemoryMark Benchmark



With Memory Mark, 2733 Mhz tended to be a sweet spot speed for the OCPC in all categories but Memory Mark Read. Other than Memory Mark Read, the combined 3.9 Ghz overclock on the 2400g and the Memory overclock of 2666 did well is this benchmark.
Firestrike

With a slightly overclock of 2733 Mhz on the memory, there was a slight increase in score on 3DMark's Firestrike. Overclocked to 2933 Mhz had a slight decrease compared to 2733 Mhz. The best improvements to the Firestrike score was the 2400g overclocked to 3.9 Ghz and 2666 Mhz on the memory.
Ashes of the Singularity (CPU Test)

For Ashes of the Singularity, the loose timings of the 2933 Mhz overclock on the ram did not do well versus just an overclock of 2733 Mhz. If running Ashes of the Singularity, I would keep a modest overclock on your memory or an overclock on your CPU and a mild overclock on your memory.
Rise of the Tomb Raider Benchmark

For Rise of the Tomb Raider, an overclock up to 2933 Mhz or even overclocking the CPU did not make any improvements over stock CPU clocks and stock memory clocks. However, an overclock of 2733 Mhz did well to slightly improve frame rates.
Cinebench R15 (3 consecutive runs)

A common trend throughout testing the OCPC memory did best when overclocked to 2733 Mhz. At 2733 Mhz there was an improvement of 11 points in Cinebench R15. With the 2400g overclocked to 3.9 Ghz and OCPC memory overclocked to 2666 Mhz, there was an improvement of 16 points.
Our Verdict
View on Amazon
Overall, the OCPC 16gb 2400 Mhz kit is great if you are looking for some memory for your new build. If you can find this ram on sale, I would pick it up because we don't know where the memory market will continue to trend.
Memory works out of the box
Great performance when overclocked 366 Mhz (2733 Mhz)
Simplistic heat spreader design
Low profile heat spreaders