PC Hardware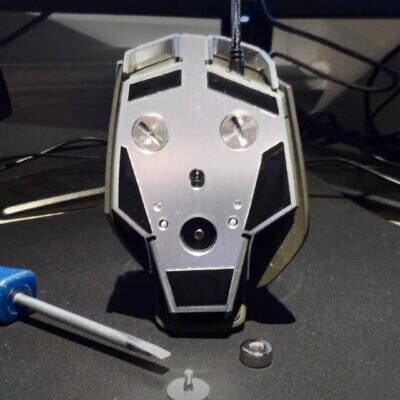 With regard to gaming mice, PC gamers are indeed spoilt for choice. Whether you want to play FPS (first-person shooters) MMO (massively multiplayer online), RTS (real-time strategy) games or any game you want, there is a mouse to suit your needs. But gaming mice are not ordinary mice. They differ from them in that they are lower latency, they come with better software to allow for custom tweaking, user sensors that maintain faster movements and they also support higher DPI settings. So which mouse is the best for you? We have done research, tested and even gamed with lots of gaming mice and these 5 are the best by far. Read on to learn them.
1. Logitech G502 Proteus Core (Best All-round Gaming Mouse)

There is a good reason this particular mouse is a best seller. The highlights of this gaming mouse include 11 programmable buttons, dual-mode mouse wheel, In-game DPI shifting, 1 millisecond report rate, 3 onboard profiles, rubber grips, mechanical and micro switches. If you could do with some weight in your hand, then this G502 Proteus Core is the thing for you. This is because you can customize the weight. It includes five weights you can add and reposition to your liking. Not specified for any gaming genre, the G502 gaming mouse has a great feel as well as stellar performance. It can handle FPS, MMO, RTS or anything thrown at it with both grace and aplomb.
2. Corsair Vengeance M65 (best gaming mouse for FPS )

Although hardcore FPS fans do not necessarily require many buttons to play successfully, they could do with some comfort and precision. Fortunately, the Corsair Vengeance M65 can deliver on both counts. This mouse was designed specifically for FPS players. It comes with 8 programmable buttons, and this includes one button that goes into a 'sniper mode' which is to slow down the DPI, allowing players to aim more precisely. And if you want to refine the feel of your mouse, you can tweak the three adjustable weights and even effortlessly switch between the 3 DPI settings. With highly customizable software, the Corsair Vengeance M65 is the finest gaming mouse for FPS players.
3. Razer DeathAdder Chroma (best gaming mouse for RTS players)

We really liked the way this latest mouse from Razer fits in the hands. This 10,000 DPI sensor has speeds of up to 200 inches per second, which allows you to view your movements on companion PC app. It boasts of chroma lighting of 16.8 million customizable color options. This allows you to tinker with the design to how you like it. Not only is it light but also its rubber-side grips will come in handy during those tense moments. This is the best mouse for RTS players.
4. Turtle Beach Grip 300 (best budget gaming mouse)

This is the best mouse for the budget-conscious folks. At just $40, the mouse features a comfortable design, no cumbersome software, 3 DPI settings and 2 big thumb buttons. The mouse is attractive, elegant and simple with a price tag that is just too good for its functionality. Its grip is lean and quite inexpensive. It is particularly suited to FPS and RTS gamers. While the Turtle Beach Grip 300 will not necessarily wow tournament-grade gamers, it is an excellent mouse for an ordinary gamer and can be used in almost any genre of games.
5.Logitech G602 Wireless Gaming Mouse

The G602 refers to a right-handed mouse that has a sculpted ergonomic design. It also comes with a jutting wing which gives you a place to support your thumb. On its left side, there are 6 programmable buttons that are easily accessible by the thumb. These are perfect for keybinds and macros used during MMORPGs as well as other similar games.
Its pros include comfortable right-handed design, great button placement which allows for superior switching of DPI, several thumb buttons that enable macros and custom control and a fantastic energy efficiency which extends the battery life to many days as opposed to just hours.
This wireless gaming mouse gives you all the great gaming experience that you can get from high-performance products.
Conclusion
There you have it, the best gaming mice in the market. These mice have features and functionality that make them stand out from the competition. Whatever your genre, we've got you covered. Even if you are looking for the most outstanding gaming mice for mmorpg, you will find it. These mice have excellent hand grip, high amount of DPI, and customizable options for color. All these are aimed at taking your gaming experience to the next level.