PerformancePSU Verdict:
4
/
5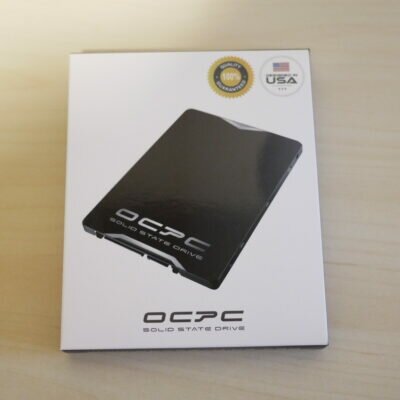 View on Amazon
With decent drive speeds, the OCPC 240gb SSD would make a great extra storage drive that could hold a few AAA titles or two AAA games that require a lot of storage space. This drive would also be a great addition if you are looking to replace that mechanical drive in your laptop.
Consistent Read and Write Speeds
Clean design and aesthetic
OCPC is a USA-based company that has been providing memory solutions since 2007. The company makes SSDs, Memory, PSUs and even Nvidia and AMD GPUs so, we sourced one of their solid-state hard drives for testing to see if performance can live up to the competition in the market.
Today, we will take a look at their 240GB Solid State Drive (SSD).
OCPC Gaming 240gb SSD Specifications
Capacity: 240 gb
Memory Type: 3D TLC NAND Flash
Controller: Silicon Motion Controller SM 2258
Features: TRIM, ECC, SMART
Dimensions (L x W x H): 100mm x 70mm x 7mm
Weight: 56 g
Sequential Read Speed: Up to 550 MB/s
Sequential Write Speed: Up to 510 MB/s
Random 4K Read Speed: 77,000 IOPS
Random 4K Write Speed: 90, 000 IOPS
OCPC Gaming 240gb SSD Unboxing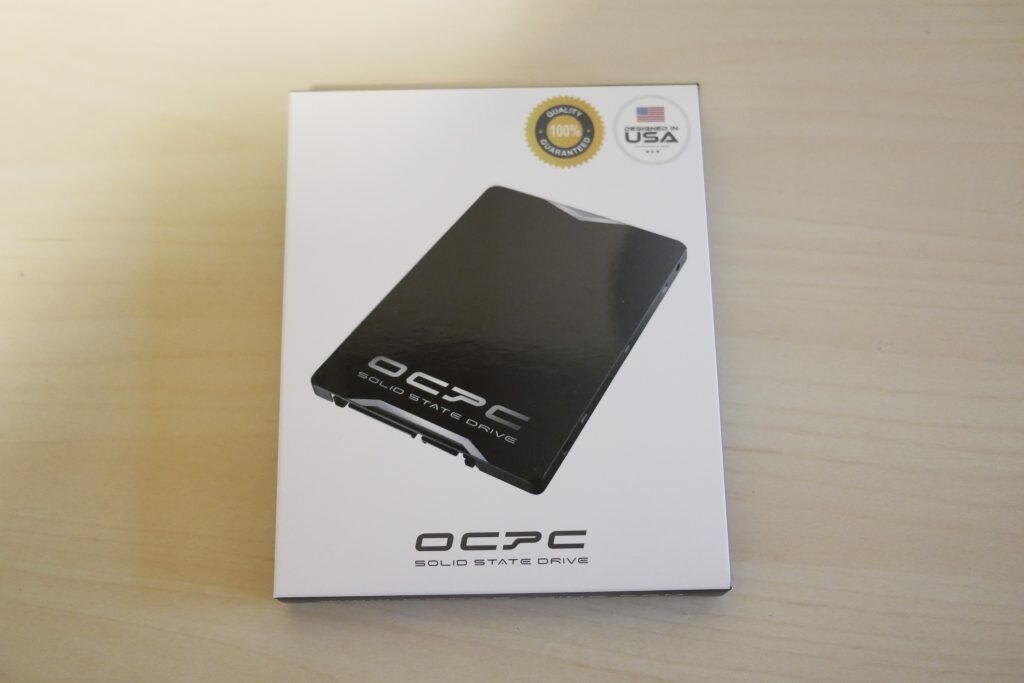 The OCPC SSD box has a nice picture of the actual SSD on the front. They advertise 100% quality guaranteed and that the SSD is designed in the USA. The back of the box has the specifications listed. The SSD has a 3-year warranty.
Opening the box, you have another u-shaped black insert that holds the SSD. The SSD is surrounded by foam. This is a really nice touch compared to a plastic insert that holds the SSD with many other companies. There are no screws or brackets included with this SSD. While I feel that a bracket is not necessary, it would be nice to include four screws to be able to install the SSD right away in your build.


Looking at the OCPC SSD, it is similar to the memory, a black paint scheme with silver accents. The OCPC logo is also in silver.
Testing System and Installation
Processor: AMD Ryzen 5 2400g
Motherboard: Gigabyte AB350N Wifi ITX
Graphics Card: Powercolor HD 7870 Myst Edition
Memory: 16gb OCPC 2400 Mhz
Storage: 240g Samsung 850 Evo ssd, 240gb OCPC SSD
Power Supply: XFX TS 750w
Case: Cooler Master HAF Evo XB Test Bench
Installation
Installation was straightforward. Find a place to mount the drive and hook up the SATA cable and SATA power cable. I wish four mounting screws were included because if you are buying this drive as an upgrade to your system, you prebuilt system might not have spare screws.
Benchtests
The following are what I believe to be a great group of benchmarks used to test your storage speeds. Each of these tests is free to download and try out on your own system.
Userbench:

Looking at the write and read speeds you can see that the OCPC 240gn SSD was able to score 456 MB/s in Sequential reads and 408 MB/s in Sequential writes. This is quite a bit off from the 550 MB/s Read and 510 MB/s writes advertised on the box.
PassMark DriveMark

In DriveMark the OCPC SSD was able to have a Max throughput of 470 MB/s Read and 414 MB/s Write, which is a bit closer to the speeds advertised on the box.
Crystal DiskMark

During the Crystal benchmark, the speeds were even more improved at 492 MB/s read and 429.7 MB/s write.
ATTO

The ATTO benchmark showed an increase in speeds with 500 MB/s read and 434 MB/s write.