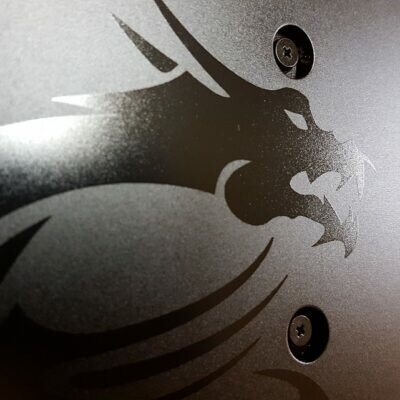 View on Amazon
The MSI Gaming R9 380 4G is a truly terrific graphics card, with it's excellent build quality, stunning looks and great cooling it's an ideal card for 1080p gaming and even puts in a nice showing at 1440p
MSI (Micro Star International) was founded in 1986 and are based out of Taiwan and have a reputation for designing and producing quality Motherboards, Graphics cards and Laptops.
Now we have been waiting for some time to try out MSI's new Twin Frozr V cooler on an AMD card ever since we seen it's debut on the Nvidia GTX 970 and GTX 980 and now we have one.
MSI's take on the R9 380, for those who don't know about this card it's essentially a refresher of the R9 285 but it has had some tweaks and improvements made to it so i'd be hesitant to call it a rebrand.
While the GPU itself remains largely unchanged in terms of stream processors and other major specs it is more efficient than the GPU it's based off, the entire 300 series from AMD has been reworked so it achieves higher clock speeds whilst using less power than it's predecessors, add that to the nice 4GB helping of GDDR5 Vram and it seems as though this card might well be bigger badder brother of the 285 we were all hoping for.
A couple of features that stand out for the R9 380 are AMD's Freesync technology for one:

Freesync synchronizes the update rate of a monitor with that of your graphics card to eliminate tearing and choppiness to provide an extremely smooth gameplay experience.
And AMD's VSR (Virtual Super Resolution):
Now with VSR you can virtually increase your in-game resolution (or desktop but i wouldn't recommend that) to higher levels than your monitor will support and with the R9 380 (along with the R9 Fury X, R9 Fury and the R9 285) you can go as high as 4k (2160 x 3840) which makes enjoying all those older games much easier.
Now let's have a look at this card in the flesh, shall we?

Starting with the box of course MSI has a very attractive design here with a simple Red and Black colour scheme featuring some standout items about the card such as the fact this has 4GB of GDDR5 memory, that this is the 'OC" edition and there is also their trademark Dragon logo with a PCB tracer layout embossed onto the box.

Moving onto to the back of the box it is crammed full of information and features about the card such as the new design TORX fans which boast a cutting edge design and superior cooling, the SuperSP heatpipes which are specially designed for better heat dispersion and MSI has added a Zero Frozr function to this card so at idle load the fans will not spin keeping noise down.

The inner box is quite plain and is all black with a glossy MSI Gaming G Series logo in the centre

Inside we find and disc with the Catalyst 15.2 WHQL driver, MSI Kombustor utility (Which we will use for temp testing), MSI gaming app, MSI Afterburner, XSplit Gamecaster, Google Chrome and even a copy of Norton Internet Security, quite alot of software bundled on this disc.
In addition to that we get a DVI to VGA adaptor and a quick user guide for installation.

The GPU itself is well protected and sits in a good-sized anti-static bag in an anti-static foam cutout with the box we seen above in top of it for good protection during shipping.



After we've taken the GPU out we can see that MSI has really put a lot of work into the looks of this cooler with a great colour scheme and nice accents over the card and of course a nice little information sticker telling you to remove it before gaming and not to panic if the fans don't start spinning right away after installation.


Now this is the side you will see most of the time and it looks good……
With the MSI logo lighting up white (although it's effects can be changed or turned off via MSI's gaming app) and the nice heat pipe arrangement this is a very good looking card and only requires 2x 6-pin PCIe power connectors which are rotated so the clip is actually on the top so you don't squash your fingers when trying to remove the cables.


Now I'm not really sure what to say here except this is a sexy looking backplate, it's has a quality finish and has adequate ventilation thanks to the multiple air holes.


These are the sides you will rarely see but it still looks good and looking at the rear of the card we can see the good spacing between the backplate and PCB along with the fins of the heatsink being nice and straight, good quality control here.


The I/O ports on the R9 380 gives you plenty of functionality with there being a DVI-I, DVI-D, HDMI 1.4 and DP 1.2 ports and some nice red dust cover over them for protection.
Onto the specs:
Here are they are as read by GPU-Z:


The MSI Gaming OC R9 380 has 1792 stream processors with a GPU clock of 980Mhz in gaming mode (1000Mhz in OC mode) and 4096MB of SK-Hynix GDDR5 clocked at 1425Mhz (5700Mhz effective) on a 256-bit bus.
This GPU uses AMD's GCN 1.2 architecture which features better tessellation and colour compression over the previous version (GCN 1.1).
Testing Rig:
CPU: AMD FX-9590 @ 5.0Ghz
Memory: 16GB G.Skill TridentX DDR3 @ 2400Mhz 10-12-12-31
Motherboard: Asus Sabertooth 990FX R2
Graphics Card: MSI Gaming OC R9 380 (15.7.1 Driver)
Boot Crive: Samsung 840 Evo 250GB SSD
Games Drive: Seagate 2TB SSHD
OS: Windows 10 Home 64-bit
Power Supply: XFX Pro 850w
Tomb Raider (2013)
Tomb Raider (2013) is a reboot of the hugely popular Tomb Raider which sees the beginning story of Lara Croft and is developed by Square Enix
Ultra and Ultimate presets

Dirt Rally
Dirt Rally is racing game developed and published by Codemasters which features a large variety of cars and locations, Players compete in timed events on a variety of road surfaces and varied weather conditions.
Very High and Ultra Presets (No AA)


GTA V
Grand Theft Auto V is an open-world action-adventure game developed by Rockstar North and published by Rockstar Games, The main storyline follows three protagonists (Micheal, Trevor and Franklin) as they commit heists and other shenanigans whilst under pressure from a government agency.
(Settings as shown below)




Grid Autosport
Autosport is the third instalment in the Grid series that's both developed and published by Codemasters with more of a focus being put into more authentic gameplay than the previous Grid titles.
Very High and Ultra Presets (8x MSAA)


Batman: Arkham Knight
Arkham Knight is the newest entry into the Batman series developed by Rocksteady Studios and Published by Warner Bros, This game is set one year after the events of Arkham City where Batman (you) must confront the mysterious Arkham Knight who has united with Scarecrow and has taken hold of Gotham City.
Medium and High Preset (Gameworks off)


Middle Earth: Shadow of Mordor
Middle Earth: Shadow of Mordor is an open-world action-adventure game developed by Monolith Productions. The events in the story take place between The Hobbit and The Lord of the Rings.
Very High and Ultra Presets (High resolution texture pack included)


Sleeping Dogs
Sleepings Dogs is an open world action-adventure game developed by United Front Games and Square Enix London, Set in modern-day Hong Kong the story follows Wei Shen, an undercover Hong Kong/American police officer on assignment to infiltrate the Sun On Yee Triad.
Very High and Extreme Presets


Synthetic Benchmarks
We are going to run a small suite of synthetic benchmarks with the usual Unigine and 3DMark benches to gauge how the 380 deals with non-gaming scenarios.
3DMark Skydiver


3DMark Firestrike


3DMark Firestrike Extreme


Unigine Heaven


Unigine Valley


Overclocking Performance
With the fans left on auto and the power limit bumped up to +20% we managed a 1100 GPU clock (120Mhz overstock) and 1500Mhz on the memory (75Mhz overstock) which ran through 3DMark's Skydiver beautifully and gave us a good increase to the Graphics and overall scores
Conclusion
Well MSI have done an amazing job with this card for starters, from the rotated power connectors to the stellar cooling provided, They really ticked the majority of the boxes that people want when looking for a gaming card, The factory OC is always a nice touch and it can still squeeze more out of it still without having to increase the voltage or even raise the fan speeds which is always a good sign of a solid design.
The Antigua (Tonga) GPU underneath has all the latest and greatest tech in AMD's lineup and manages to punch through everything at 1080p with relative ease and even gives a nice showing at 1440p in the majority of titles we tested out. add onto the fact this card is rated for a 190w draw at max makes it a nice card to consider for a crossfire configuration considering how well it keeps cool under full load.
The things I didn't like…….well, I'll be honest and tell you there really wasn't much about this card I could fault, I would have liked to see a VRM temperature sensor on the card to monitor them while overclocking and maybe….actually that's all I have an issue with, It looks great, performs well, is near silent under full load, the cooling is very impressive, it overclocks well and is even reasonably priced.
Thank you to AMD for sending me the >R9 380 Gaming OC to review