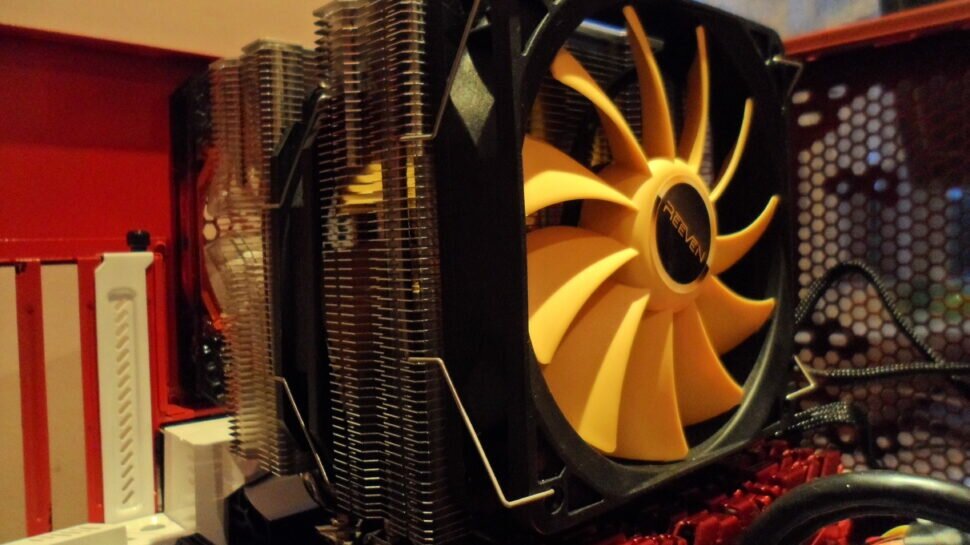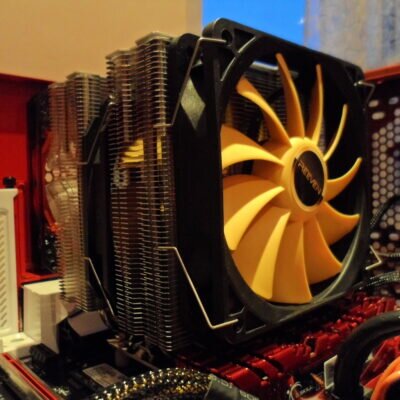 View on Amazon
When I first took this cooler out of the box it screamed quality. It offers extreme cooling capacity when needed but is quiet when you are not pushing things so far. We highly recommend Reeven's Okeanos Universial CPU Cooler to anyone looking for a decent air cooling unit.
Reeven is a new emerging hardware start-up with a small but targeted range of products aimed at pc overclocking enthusiasts, from 77.8CFM case fans to Fan controllers and CPU tower air coolers, Reeven are certainly trying to make a bold statement with their slick debut product line.
When Jerry contacted me and ask if I would be interested in reviewing their products I was all to happy to oblige, after all, it's hard for smaller companies to get noticed – A little more competition won't do any harm.
I am going to be reviewing the Reeven Okeanos universal CPU air cooler. Constructed with aluminium fins, 6 nickel-plated copper heat pipes and coming supplied
with 1 x 120mm fan and 1 x 140mm fan, Reeven are definitely not messing around when it comes to its dual-tower flagship CPU cooler.
You might also like: Noctua NH-D15 Cooler Review
Reeven Okeanos Specifications
Motherboard Support
AMD: AM2, AM2+, AM3, AM3+, FM1, FM2, FM2+
Intel: LGA 1150, LGA 1155, 1156, 1366, 2011
Dimensions
140mm x 163mm x 135mm – Width / Height / Depth
120mm Fan
300 – 1800 RPM (PWM)
16.6 – 92.5 CFM
4 – 23.6 dBA
140mm Fan
300 – 1700 RPM (PWM)
16.3 – 92.4 CFM
5.8 – 36.4 dBA
Let's take a look at what's inside the box and how easy CPU cooler is to install.
When I opened the box and saw how quite frankly huge it was, I started to get a little bit excited – It really looks like it has some real cooling potential, its dual aluminium tower design with 6 copper heat pipes really screams 'overclock me'.




Reeven have gone through a great deal of effort to brand itself and their Okeanos CPU cooler packaging with very distinctive black and yellow letters and icons.




Just like the care that has gone into the box, it is clear to see the effort they have put into their flagship tower CPU cooler with its very slick design and subtle branding.




While the polish is not the greatest I have seen Reeven's Okeanos is at least not the worst either providing a solid finish with a few minor machine swirls.
Reeven Okeanos Installation
Installation was not as smooth as I would have liked but that's to be expected with such a huge piece of a cooling kit. Thankfully I did not face any clearance issues when installing the Okeanos tower in our Fractal Design Arc XL, with a little perseverance I managed to get this huge cooler installed.




My only real complaint trying to install this CPU cooler was when it come to the fans. The Okeanos only just about had enough clearance as it is, trying to get those clips to secure in such a tight space was not a straightforward task. Despite this small detail, it was still reasonably easy to install and looks fantastic when is installed.

We are going to be using our trusted Intel Skylake test bed which has proven to give a wide variety of hardware a considerable workout.
CPU: Intel 6700K (Skylake)
Motherboard: Gigabyte Z170x Gaming 7 Motherboard
Memory: G.SKILL Ripjaws 4 DDR4-3333mhz @ 16-18-18-38-1T
GPU: EVGA 980Ti 6GB Superclocked ACX2.0+
HDD: 500GB Samsung EVO 650 M.2
Power Supply: Seasonic P-Series 1000W Fully Modular
This test bed also appeared in:
How we tested?
Idle Temperatures were taken after 15 minutes of OCCT followed by a 15-minute idle period after which temperatures were then taken. I manually overclocked the CPU without the use of presets so I could really dial in what this awesome CPU cooler is potentially capable of.
All overclocks were stability tested for 1 hour.
Stability Tools Use
Intel XTU Stress Test
PCMark
OCCT CPU Stress Test
SuperPI 32B
You can download all of our pc stability testing tools here.
First up in our Reeven Okeanos performance tests is to see how this unit performs with everything set to default in the bios. During our stock tests, the room temperature was 24.7*c with idle temperatures sitting nicely at 26*c, that's just 1.3*c above ambient!

During processor stress test's this CPU cooler managed a maximum load temperature of just 55*c, that's pretty good going for an air and should allow us plenty of overclocking room later.
Mild Overclock – 4400Mhz / Stock VID

Due to Intel's Speedstep technology, Idle temperatures were no different despite the higher cpu ratio however, when it come to testing stability temperatures soon hiked over stock with a highest temperature of 63*c, that's +8*c just from increasing the ratio.
Respectable Overclock: 4700Mhz / + 0.25Mv
During this test the ambient room temperature dropped to 24.3*C with idle temperatures staying the same despite a 0.25v increase in voltage.

Tests completed without a hitch with temperatures rising to a maximum of 69*c, that's a reasonable 24/7 safe overclock right there.
Turning up the heat: 4800Mhz / + 0.50Mv

With almost every test failing the moment I pressed the start button, it's fair to say that the Okeanos was not up to the task but, asking it to deal with high voltage and the added heat was a big ask, that put a side it done a great job.
Where should I start with this one? Reeven has tried really hard to appeal to overclockers with this cooler. It's a solid piece of kit for those not wanting to get flashy with liquid pc cooling. The provided fans provide both ample airflow while keeping things near silent as well, this really is a great piece of kit.



"You won't be hitting mind-blowing overclocks but you will be able to attain a respectable 24/7 overclock and keep things safe. Let's face it, who doesn't want more speed?".
As mentioned in the installation instructions, the only thing that lets down this quite frankly amazing CPU tower cooler is the installation of the unit. You could try attaching the fans first but then you will just have to remove one to then secure it in place. This aside, if you have an extra 10 minutes to install the Okeanos CPU Tower then supporting the small guys would be a wise choice.
I give Reeven a strong 4.8 / 5 and a pat on the back for such an exceptional debut product.
I would like to thank Reeven for providing this sample to review. We ensure all our reviews are impartial and honest.