PerformancePSU Verdict:
3.7
/
5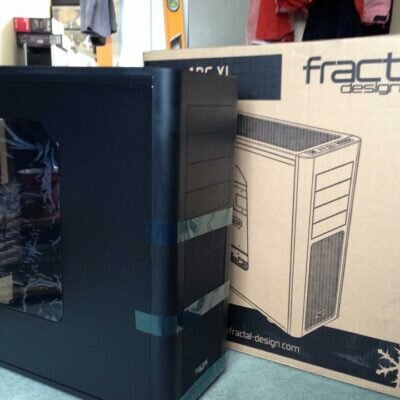 View on Amazon
Despite the smooth exterior looks, I felt this case was a little hard to build with. Stuff on the front panel didn't line up and needed forcing to screw them in place
Fractal Desing's Arc XL full performance tower PC case is fully modular and provides immense water cooling support allowing for a triple radiator set-up with plenty of room to spare for multiple HDDs.
One great thing about this case is it has amazing support for mounting your watercooling pump which is a big pitfall for a lot of cases on the market. It comes with pre-drilled holes all around the case so you can easily mount your pump in a variety of different places – perfect for those tricky builds!
Arc XL Performance Tower Key Features
Delivering maximum airflow within a sleek and minimalist body design
Spacious internal layout with 9 PCI expansion slots allowing the biggest, most demanding components and cooling setups
Designed for extensive water cooling configurations, accommodating multiple thick 240mm radiators and slim radiators up to 360mm in length with space to spare for pumps and reservoirs!
Offering added value with three Silent Series R2 fans included giving you excellent cooling straight out of the box!
Featuring a three-speed fan controller strategically integrated with the front panel for easy access
With multiple easy-to-clean dust filters designed into the case, you can ensure a dust free interior
Providing ample storage capacity with a flexible hard drive mounting system for up to 8 x 3.5" drives while accommodating an additional 2 x 2.5" drives behind the motherboard
Innovative SSD position mounting, using brackets to allow for easy access once your system is built
Featuring a window side panel to show off your set-up in style
Air Cooling Features
Front: 2 x 120/140mm fans (included is one hydraulic bearing 140mm Silent Series R2 fan, 1000 RPM speed)
Rear: 1 x 120/140mm fan (included is a hydraulic bearing 140mm Silent Series R2 fan, 1000 RPM speed)
Top: 3 x 120x140mm fans (included is one hydraulic bearing 140mm Silent Series R2 fan, 1000 RPM speed)
Bottom: 1 x 120/140mm fan (not included)
Fan controller: 1 x Integrated fan controller for up to 3 fans (included)
Watercooling Features
Front – 240 mm radiators (thick and slim) when HDD cages are re-positioned or removed
Top – 240mm radiators (thick) or 280 and 360mm radiators (slim)
Bottom – 120mm radiators
Rear – 120 and 140mm radiators
When the case arrived, and we started to unbox the case we realized something – the Arc XL is HUGE! Coming in at just over half a meter tall, a stark comparison to our old Corsair 650D.
Initially, it felt sturdy, the front felt a bit plastic – we would have liked for it to be a little more polished considering is cost us nearly £100 / $150.


Out of the box, it comes with 4 of the six fan slots filled with their branded 140mm Silent Series R2 fans that are indeed silent but only provide 60CFM of airflow.
They will do great for a silent build, but anyone looking for performance will want to replace them with aftermarket fans.
The case has a jet black spray job that is a thing of beauty, much like Swedish cars I don't think it's possible to chip the paint off this case even if you tried.



Alongside the fans, they provided plenty of color coded screws, cable ties as well as warranty information.
The small touches of white were great and add a nice contrast to the rest of the case, it almost made me want to delay the build and spray the inside white.
We had really high hopes for this case when we ordered it from Scan it looked seamless in the pictures but as we started to dismantle the case and build our new test rig we soon realized this was not the case (no pun intended) and in fact the case was a bit flimsy with no external panels or drive bays in the case.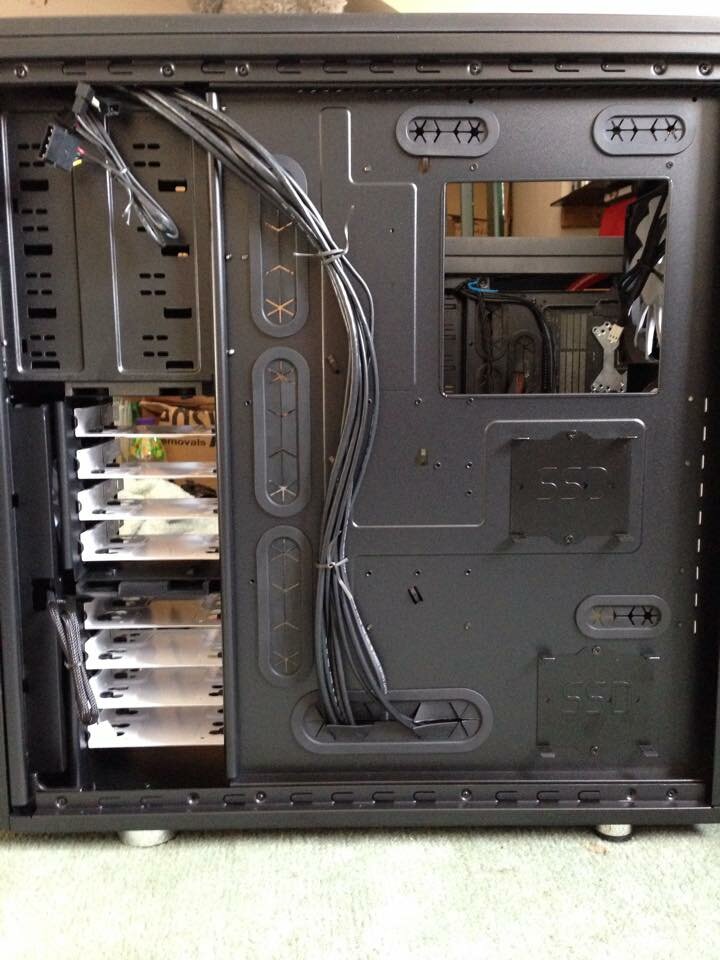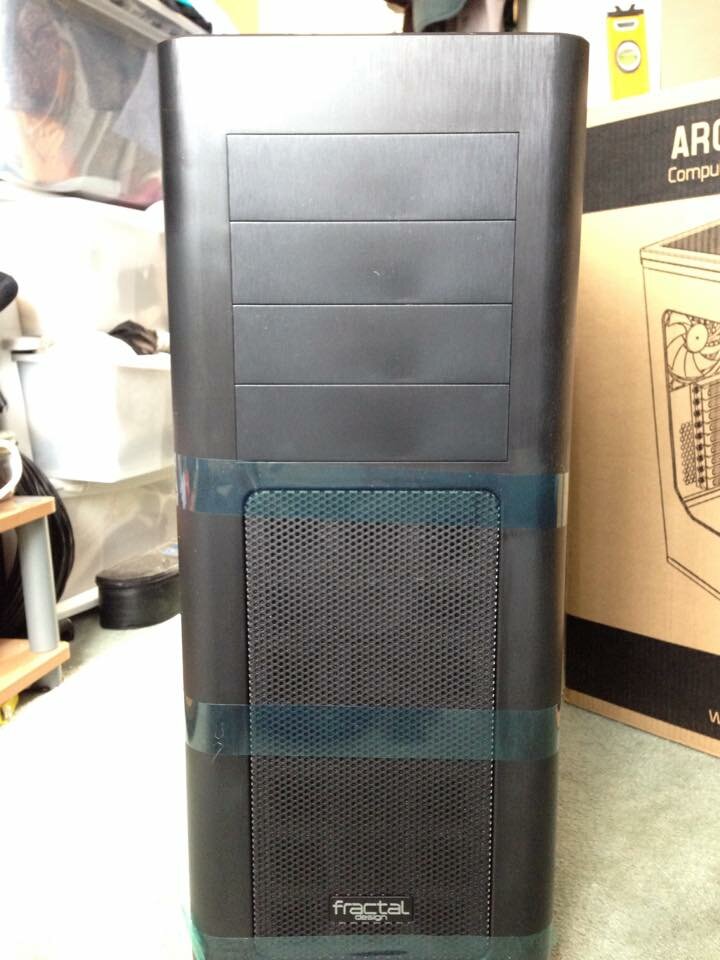 The overall look of the case is beautiful on the surface it looks out of this world, when you open the case side panel you do have to stop for a second and just take a step back and admire it. The cable routing has been well thought out with no excess cables being exposed – the rear SSD mounts are a great touch.
The cable management has been well thought out with no excess cables being exposed – the rear SSD mounts are a great touch.
Fractal Design Arc XL Annoyances
One of the few things that were annoying us were things not aligning up correctly after we dismantled the case. For example, once the front 5'25 drive mount blankers were taken out, they were very hard to get back in and snugly fit against our reservoir. Although we did end up getting them all back in, we had to use a lot of force to do so.
To top things off, the motherboard risers supplied with the case stand to tall supporting the motherboard too high in the case. The result? A rear I/O panel that doesn't line up correctly stopping us from using 2 USB Slots on the rear of our motherboard.
The two front mounts for the 140mm fans use non-standard elongated screws that are far from optimal for use with anything but their fans.
Aside from the obvious manufacturing flaws pointed out above, we are still happy with the end build result and how it looks visually. The case is very sturdy when everything is in the case, the paint has survived many screwdriver slips, there is amazing airflow throughout the case and the cable management is second to none.
The fact that the backplate on our Asus ROG Hero VII Maximus barely fits correctly, the non-standard fan screw fittings on the front of the case which seems impossible to get replacements for, coupled with the fact that Corsairs Obsidian 650D is only £20 more (which housed our previous rig and was an amazing little case), we felt a little underwhelmed. At times, it felt like we were building in a budget PC case with us forcing stuff to go in their slots or hacking apart our fans to fit their small non-standard screws supplied with the case.





The things that do this case justice is there is plenty of space for water cooling. It's also very quiet and when everything is in the case. Overall it's a very sturdy case with amazing cable management.
The rear-mounted SSD mount is pure genius and keep the case looking clean, not something you normally find in PC cases in this price bracket.
For the price, it's a solid case that provides plenty of space for any water cooling enthusiast and has huge potential as a modding project although we would have liked to of seen better care taken during the manufacturing process.