PerformancePSU Verdict:
4.3
/
5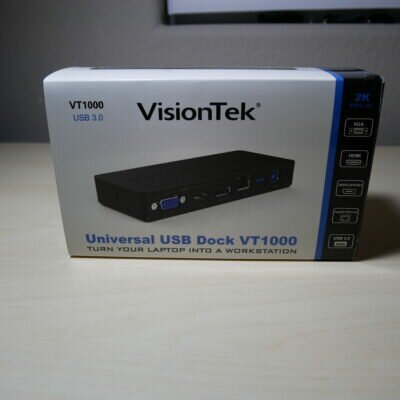 View on Amazon
The Dual Display Dock by Visiontek is worth the money to change your laptop into essentially a desktop with the ability to have three displays. It allows any user to easily multitask. If you are in the market for being able to hook up one or two monitors to your laptop with one USB 3.0 cable, this is the dock for you.
Simplistic Design
Simple Packaging
Have you ever wanted to add monitors to your laptop to get more screen real estate? Sometimes your laptop screen isn't enough and if your laptop supports it you can add a single monitor. Today, VisionTek has released the VT1000 Universal Dual Display USB 3.0 Dock. As it sounds, the device will allow you to add two monitors to your laptop computer. Today, we will take a closer look at this device by VisionTek.
The VT1000 Dual Display Dock allows the user to connect their Windows, MAC or Chrome laptop to dual displays with a single USB 3.0 connection. With almost completely Plug and Play installation, the user will just have to download from https://goo.gl/fpqWDg, restart and it is recognized.
Specifications
Ports: 6x USB 3.0 ports, Headphone Jack, Microphone Jack, Gigabit Ethernet – RJ 45
Output: DisplayPort, HDMI, VGA
Built in USB 3.0 GPU, certified by DisplayLink
System Requirements
Intel Core i3 or AMD equivalent, 4 GB of memory, a USB 3.0 port on your laptop
Supported Operating Systems:
Product Dimensions:
LxWxH: 6 in x 3 in x 1 in
Output Configuration: Maximum resolution and refresh rate supported
A Closer Look




When unboxing the dock, it has fairly simple packaging, while also being effective. The outside sleeve shows a picture of the product and also some basic details. Once the sleeve is removed you are greeted with the dock itself on top.



Once you remove the dock, you have the power adapter and the USB 3.0 cable that is included, along with instructions. Taking a closer look at the exterior of the dock, it has a nice aluminium casing that makes the product feel very sturdy and really adds to the great build quality. At the front of the dock, you will notice there are two USB 3.0 ports and a power led indicator.


At the rear of the dock, you notice a VGA port, HDMI, DisplayPort, Gigabit Ethernet port, USB 3.0 port, a USB 3.0 data port and the power port. All of the USB 3.0 ports can be used for peripherals and charging your mobile devices, which is a very convenient feature.
Testing


Testing was performed using the following test system:
HP Envy X360 15z Laptop
CPU: Ryzen 5 2500u
MEMORY: 16GB DDR4 2400 MHz
STORAGE: OCZ RD400 500GB M.2 NVME SSD, 1 TB 2.5" HDD
OS: Windows 10, Build 1703
Monitors: Acer 27in 1440p, Asus 22in 1080p
First, I downloaded the display software and installed it with no issues. Restarted the laptop and made sure the dock was hooked up to the laptop. The additional displays were instantly recognized and I adjusted the resolution. I was using the DisplayPort + HDMI connections and had both monitors set to 1920 X 1080p. Then I reconfigured the displays to extend my desktop. The third display is the laptop screen and can be utilized to display any information you wish.



My first test consisted of using one display to monitor my computer temperature status and the other part of the display to monitor Windows resources. The second display had Chrome with several tabs open, and a YouTube video playing. The third display had Microsoft Word open. I worked on the laptop like this for 30 minutes and noticed no issues with the laptop or dock. The dock was able to output to both displays without a hitch.


My second test was to play Tomb Raider on one display, have YouTube playing on another display and have my computer temperature and status windows open on the third display. This also worked flawlessly. Since I have never experienced having three displays at once, I enjoyed this setup and actually tested with this configuration for an entire hour. I noticed no issues at all.