PerformancePSU Verdict:
4.7
/
5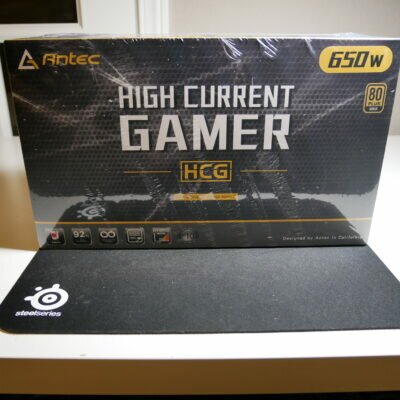 View on Amazon
Overall, Antec has designed a great power supply with their new High Current Gamer Gold series, specifically the 650W variant. If you are looking for a 650W, 750W, or 850W PSU at a great price, look no further than the High Current Gamer Gold series by Antec.
80 PLUS Gold effieciency
Black Cables
Compact size
Quiet with the ZERO RPM mode
100% Japanese Capacitors for efficiency and life expectancy
Amazing 10 Year warranty
Today, we take a look at a new PSU line by Antec, the High Current Gamer Gold series. This PSU comes in three different variants, the 650W ($99.99 MSRP), the 750W ($104.99 MSRP) and the 850W ($119.99 MSRP). In addition, this new line includes an 80 PLUS® GOLD rating and fully modular cabling.
This review will focus specifically on the Antec High Current Gamer Gold 650W model which has been getting good praise in the hardware community.
Antec High Current Gamer 650watt PSU Features:

Guaranteed 650W: Continuous power from Antec
100% Modular: Improves airflow and reduces clutter
80 PLUS® Gold certified efficiency: Up to 92% efficiency due, to reduce your electricity bill
PhaseWave™ Design: Server-class full-bridge LLC design with a synchronous rectification based on DC-DC topology.
Antec Quality 10-year warranty: Lifetime global 24/7 support
120mm FDB Silence: Whisper-quiet high-quality fluid-dynamic bearing fan with long lifetime
Zero RPM Manager: An advanced low voltage fan control with fan-off mode at low loads for absolute silence
99% +12V: Output for maximum CPU & GPU support
CircuitShield™: Full suite of industrial grade protections: OCP, OVP, UVP, SCP, OPP, OTP, SIP, NLO
100% Japanese capacitors: Achieve unprecedented tight voltage regulation & low ripple & noise to maximize your system's performance
28(18+10) pin MBU socket: – For possible future MBU connectors
ATX12V 2.4: Engineered according to the newest PSU guideline and compatible with the latest CPU generation
Compact size 140mm depth power supply: The best choice for compact ATX chassis
Antec High Current Gamer 650watt PSU Specification:
| | |
| --- | --- |
| Dimensions (WxDxH) | 150 mm x 140 mm x 86 mm |
| Type | ATX 12V 2.4 |
| Modular | Fully Modular |
| Warranty | 10 Years |
| Input Voltage | 100-240 VAC ±10% |
| Input Current | 9A-4.5A |
| PFC | Active PFC (>0.9 typical) |
| Power Good Signal | 100-500ms |
| Input Frequency Range | 50Hz-60Hz |
| Efficieny | 92% Typically |
| Protection | OCP, OVP, UVP, SCP, OPP, OTP, SIP, NLO |
| Output Power | 650 watts |
| Operation Tempreture | 0~40C |
| Regulatory | cTUVus/TUV/CB/RCM/CE/EAC/CCC/BSMI/FCC/KR |
| Certification | 80 Plus Gold |
| Connections | 1 x MB 24(20+4) Pin, 1 x 8(4+4) Pin EPS 12V, 4 x 8(6+2) Pin PCI-E, 8 x SATA, 3 x Molex, 1 x FDD |
| Weight | 3.36kg |
Antec HCG Gold 650w Unboxing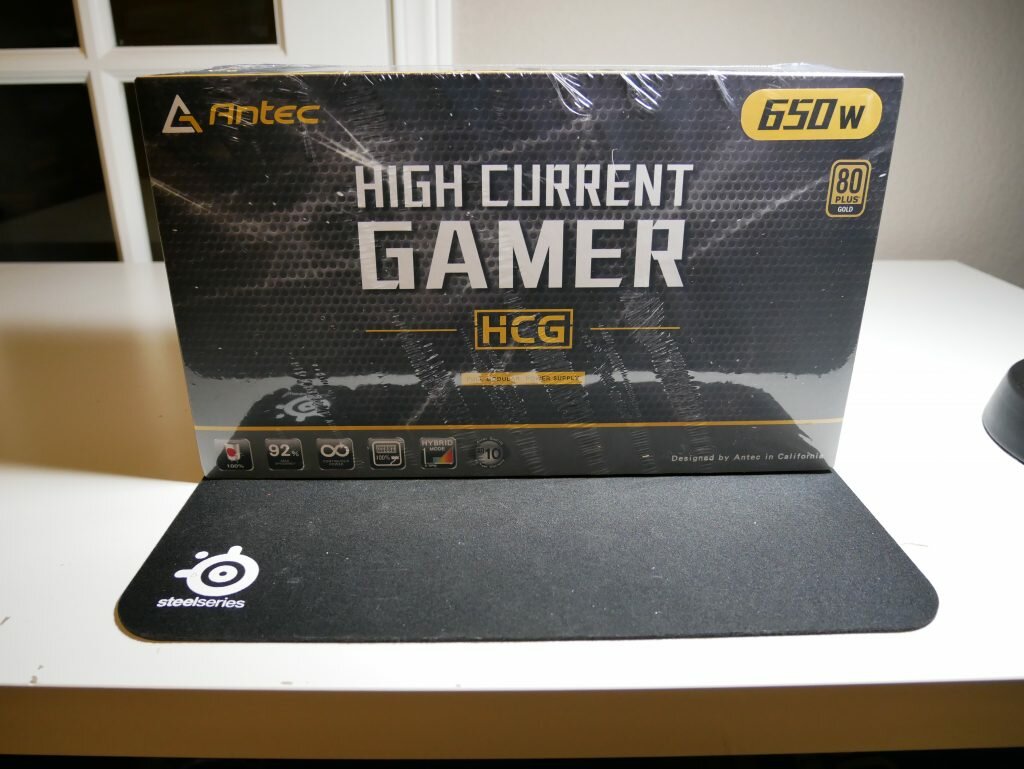 You are introduced to the Antec High Current Gamer 650W PSU with a normal-size power supply box with lots of identification displaying which series and model you have and a nice picture of the power supply. The Back of the box has all the specifications listed above.
Once you open up the box, Antec has followed like many other manufacturers and put a box inside of a box.

Once you open the next box, you find the power supply with a nice fabric bag encased in foam and a nicely packaged vinyl bag with all of the power supply cables inside.
A Closer Look at the PSU





Starting at the back of the PSU, you have a nice honeycomb mesh design to exhaust any heat out of, the power supply plug connector, and a switch to switch the Zero RPM mode or Hybrid mode on or off.
At the top of the PSU, you notice more honeycomb patterns to intake air into the PSU and behind that is your 120mm fan to draw air in to help cool the components inside. You also notice the Antec logo and also the series displayed here. Finally, at the bottom of the PSU, you have all of the specifications, and wattage broke out by rail.
At the front of the PSU, you have all the PSU cable ports that are nicely organized.
Antec HCG Gold 650w Testing
The Test System
| | |
| --- | --- |
| CPU | Intel Xeon X3450 |
| Motherboard | Asrock P55 Extreme 4 |
| Memory | OCZ Gold 4 x 2gb 1600 mhz |
| GPU | Sapphire HD 4890 Vapor-x 1 gb, MSI HD 4890 1 gb |
| CPU Cooler | be quiet! Dark Rock TF |
| Storage | Sandisk Ultra II 240gb ssd |
| Power Supply | Antec High Current Gamer Gold 650w |
Installing the Antec HCG Gold 650w was straightforward. Antec does provide you with four mounting screws and also some Velcro cable ties.



The cables are aesthetically pleasing as they are black and tend to not mess with the aesthetics of your build. The cables are not flat, and the extra capacitor in each cable does make it a little thicker. Having a thicker can be a little bit of an issue if you have a case without much room behind the motherboard tray.
Performance has been great over the last few days with the 650w PSU. Overall, with the dual HD 4890s in Crossfire, the system power usage during benchmarks got as high as 515W power draw on the entire system, and the system shows no signs of struggling or any issues at all. Additionally, with 54 amps on the 12V rail and up to 648w available max on the 12V, this power supply will not have any issues running some medium dual card setups.
I monitored the Antec HCG Gold 650w voltage rails using Hardware Monitor, specifically the 12v and 5v while under load and didn't see any significant shift in the voltages with minor deviance of +/- 0.01.
Other Power Supply Reviews