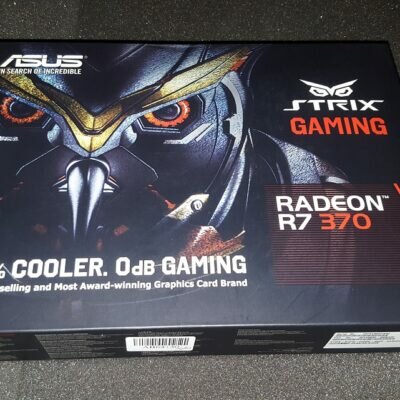 View on Amazon
Good looking and performing GPU for 1080p gaming so long as you aren't heavy on the AA in newer titles. This is a good GPU to buy for any budget-conscious PC builder.
Today, I am going to be looking at a new AMD R7 GPU from a familiar brand; Asus Strix Radeon R7 370 4GB GPU. Asus is an extremely well-known company in the PC enthusiast world having been around since 1989 they produced some of the most outstanding enthusiast-grade products.
The AMD Radeon 300 series comes with quite a number of improvements over the older 200 series with some of the new features being:
Frame rate targeting control (FRTC) which gives users the ability to set a maximum frame rate (between 55-95fps) in full-screen applications which in turn can reduce heat, power consumption and also fan noise but not introduce the traditional stuttering associated with Vsync, This is also helpful when using AMD Freesync monitors seeing as most of them have a set range for Freesync to work (35-95hz for example).

Virtual super resolution (VSR) which allows you to game at higher resolutions than your monitor supports, one of the great things about VSR is its relative performance to the resolution in question that being there is virtually no difference meaning that it's a great tool for testing out your own GPU performance at a higher resolution, another upside to VSR opposed to things such as SSAA (Super sampling anti-aliasing) is that it works on all games and all engines so you can relive those old classics with great graphical fidelity than before.

DirectX 12 (DX12) is the newest graphics API from Microsoft which all Radeon 300 series GPUs support fully.
The direct control enables developers to better use your hardware (both CPU and GPU) to deliver an overall better gaming experience thanks to the much smarter and in-depth API.
One of the new features that Radeon GPUs will utilize with DX12 is ASYNC (Asynchronous) Shaders which will allow complex graphics task to use all available Radeon graphics resources at the same time meaning it can break down bigger tasks into smaller ones allowing the work to be done more quickly giving you better performance over DX11.
Here is an illustration of things would happen without ASYNC:

And this is how things are done with ASYNC:

As you can see the overall time taken to process the frame is greatly reduced due to the way ASYNC works.
Let's take a closer look at the Asus Strix Radeon R7 370 4GB GPU;
Asus Strix Radeon R7 370 4GB Unboxing & Overview

The box's outward appearance features a mechanical owl with the words '30% cooler, 0dB Gaming" in front of it describing that the Strix features 0dB fan technology which means that the fans do not turn on until the GPU hits a certain temperature (in this case it's 62c) and that it runs 30% cooler in comparison to AMD's R7 370 reference model.

Over on the back side are all the major features about this card which include the DirectCUII fan technology which is based around heatpipes having direct contact with the GPU core, The 0dB fan technology which as I stated before leaves the fans off until a temperature threshold has been passed.
This is one of the newest cards to be built-in Asus' 100% automated production facility which hopefully means great quality control as it takes human error out of the equation, This card also comes with Asus' GPU Tweak II overclocking and monitoring tool as well as a copy of XSplit Gamecaster if you like to stream or just record your gameplay.

The inside box is very plain and just features the Strix logo printed on it.

Opening it up we find the 370 in a good-sized anti-static bag inside a nice, snug cardboard shroud with a piece of foam over the top to protect it during shipping.






Taking the GPU out of its bag we find it to be quite tiny with the PCB only just being longer than the PCIe slot it fits into it, the card dimensions are 214mm long by 125mm wide and 42mm high.
The cooler is Asus' own design and features two 8mm heat pipes soldered to a decent-sized heatsink so this should keep the temps down nicely.
The Strix R7 370 4GB GPU has a TDP of 110w and takes a single 6pin power connector, Asus quote power consumption of up to 150w for this card, it has a 4+1 power phase with 4 being for the core and 1 for the memory so there is a bit of overclocking potential in it.
The shroud is made from durable plastic but doesn't manage to feel "cheap" and the overall look of the card is quite nice, it's a little flashy but nothing over the top and the stickers add a bit of colour to the card, there is no backplate but on a card such as this I wouldn't expect one.
It has a single CrossfireX finger so you can use another R7 370 in a Crossfire setup if you choose.
We have a good range of display connectors on this card: a DVI-D, DVI-I, HDMI and DP ports so you are pretty much covered no matter your choice in the display.

What's left in the box is a Crossfire bridge, an optical disc with the 15.2 driver for Windows 7 and Windows 8.1, the Asus VGA manual, Asus GPU Tweak for your overclocking fun and the XSpilt Gamecaster program among others.
We also have a quick install guide booklet, an Asus Strix pamphlet showcasing some of Asus' other Strix branded products and a nice little Strix sticker for you to use wherever you please.
Onto the specs:
Here are they are as read by GPU-Z:

This particular R7 370 produced by ASUS has a core clock speed of 1050Mhz in gaming mode and 1070Mhz in OC mode, a memory speed of 1400Mhz (5600Mhz effective) on a 256-bit bus.
Essentially this card uses the same architecture (Pitcairn) as the older R9 270 and before that the HD 7850, but does that mean this card isn't up to 1080p gaming?
Let's find out shall we?
Asus Strix Radeon R7 370 4GB Gaming Performance
Testing Rig:
CPU: AMD FX-9590 @ 5.0Ghz
Memory: 16GB G.Skill TridentX DDR3 @ 2400Mhz 10-12-12-31
Motherboard: Asus Sabertooth 990FX R2
Graphics Card: Asus Strix R7 370 (15.7.1 Driver)
Boot Crive: Samsung 840 Evo 250GB SSD
Games Drive: Seagate 2TB SSHD
OS: Windows 10 Home 64-bit
Power Supply: Corsair AX1200i
Tomb Raider (2013)
Tomb Raider (2013) is a reboot of the hugely popular Tomb Raider which sees the beginning story of Lara Croft and is developed by Square Enix
Ultimate Settings (TressFX on)
1080p

1440p


At 1080p we are getting a playable frame rate with Tomb Raider but at 1440p it's just not fast enough to cope with the more demanding resolution.
Dirt Rally
Dirt Rally is racing game developed and published by Codemasters which features a large variety of cars and locations, Players compete in timed events on a variety of road surfaces and varied weather conditions.
Ultra Preset
1080p


1440p


We get a very nice 60fps (well 59.98 to be accurate) at 1080p with this card and a still quite playable 41.51fps at 1440p, not a bad performance.
GTA V
Grand Theft Auto V is an open world action-adventure game developed by Rockstar North and published by Rockstar Games, The main storyline follows three protagonists (Micheal, Trevor and Franklin) as they commit heists and other shenanigans whilst under pressure from a government agency.
(Settings as shown below)



1080p


1440p


1080p is looking good with a nice 57.8fps avg but again 1440p is proving to be a bit much for it.
Grid Autosport
Autosport is the third instalment in the Grid series that's both developed and published by Codemasters with more of a focus being put into more authentic gameplay than the previous Grid titles.
Ultra Preset (8x MSAA)
1080p


1440p


Again we get nice frame rates at 1080p and playable but not brilliant fps at 1440p.
Batman: Arkham Knight
Arkham Knight is the newest entry into the Batman series developed by Rocksteady Studios and Published by Warner Bros, This game is set one year after the events of Arkham City where Batman (you) must confront the mysterious Arkham Knight who has united with Scarecrow and has taken hold of Gotham City.
Ultra Preset (Gameworks off)
1080p


1440p


At 1080p we are just scraping in for playable fps with 43 avg and at 1440p this card doesn't quite have enough power to get to push past 30fps avg
Middle Earth: Shadow of Mordor
Middle Earth: Shadow of Mordor is an open world action-adventure game developed by Monolith Productions. The events in the story take place between The Hobbit and The Lord of the Rings.
Ultra Preset (High resolution texture pack included)
1080p


1440p


This card at 1080p manages 47.3 avg fps which is quite playable and at 1440p manages to squeeze out 32.5 fps avg.
Sniper Elite 3
Sniper Elite 3 is a tactical shooter developed by Rebellion and set in North Africa during WWII, You play as OSS Sniper Karl Fairburne and make your way through multiple countries carrying out you varied missons.
Ultra Preset (DX11 Mode)
1080p


1440p


For 1080p the 370 managed a very nice 64fps avg and at 1440p still got 44.4fps avg, pretty good.
Synthetic Benchmarks and Overclocking
3DMark Skydiver


3DMark Firestrike


3DMark Firestrike Extreme


Unigine Heaven


Unigine Valley


Overclocking Performance:

With the fans left on Auto and the power limit bumped to 120% in GPU Tweak we managed a stable clock speed of 1175Mhz for the GPU and 1500Mhz (6000Mhz effective) for the memory which resulted in a nice increase to the graphics score on 3DMark's Skydiver test


Noise levels and Temperatures:


Thanks to the 0 dB fan technology on the Strix this card was completely silent at desktop and low-stress usage and only got up to 34 dBa during all of my stress testing and benchmarks.
The temperatures were perfectly acceptable and only reached a top of 75c with all the stock settings.
Conclusion
Well then, This architecture has gone through quite the round of cosmetic surgery and facelifts in the past few generations but it's still performing decently well in a lot of games averaging around the 40-50fps mark for the most part which would make it a good GPU to pair with a Freesync monitor, the issue there is that the 370 doesn't support Freesync with it having the older architecture, I feel as though that is a missed target for AMD.
The cooler on this card was fantastic at idle being completely silent and at load it wasn't really audible so I have to give Asus credit for that one, the single 6-pin power connector means it doesn't use much power making it a good choice for those with smaller wattage PSUs,the factory overclock from Asus is among the fastest out there in the R7 370 lineup and the 4GB of memory is a nice addition as well especially if you are considering crossfire.
Freesync compatibility aside this card does well for 1080p gaming, it looks good, is inaudible at idle and not loud at all under full gaming load, has a nice factory OC and a good amount of memory so yes I could recommend this if you are after an AMD card for 1080p gaming and this falls into your price range.
Thank you to AMD for sending me the R7 370 Strix to review