PC Hardware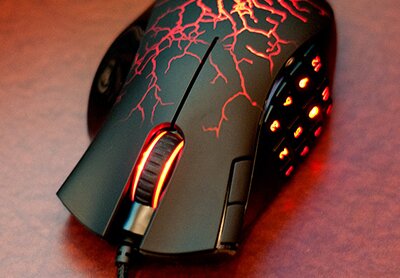 Having the best gaming mouse for the game at hand is critical to pulling off those deadly 360 degree instant head shots from 40 yards away. If your gaming mouse is not up to the task at hand its very easy to get frustrated in the heat of the game.
Choosing the best gaming mouse is something many PC gamers don't even think about until the last-minute (unless you are extremely organized), It's the most vital part of your computer because we use it everyday and to do everything.
Here is my round-up of the best gaming mice in 2014

Best All-round Mouse for Gaming
Logitech G500 Gaming Mouse
Some people play one type of game while others play a plethora of genres, its at these times an all-purpose mouse comes into play.
The Logitech G500 which features a gaming-grade laser, an extra 27g of interchangeable weight and on the fly adjustable DPI is based on the legendary MX-510 / G5 Template with that same slick ergonomic feel, braided cable and the trademark mouse 4 / 5 and 6 buttons on the left ridge we are all used to.
The G500 is an amazing piece of hardware that performs well in all applications and gaming genres, I had both the MX-510 and G5 for many many years, having played a few games of cs:go and wow on my friends G500, I give this a solid stamp of approval.
While it did not have the extreme precision of the Corsair Vengeance M65, it still performed very solidly and just as comfortable in the hand as its predecessors. In WoW it was a little frustrating not having the extra key-binds on the side of my mouse, but maybe that might be my muscle memory coming into play.
Best Gaming Mouse for First Person Shooters (FPS)
Corsair Vengeance M65 Gaming Mouse
When it comes to selecting the best mouse for First Person Shooters (FPS) your needs are much different to an MMO Player, rather than requiring 101 different programmable buttons you need a high-DPI mouse that will move with pinpoint precision, have quick-change sensitivity buttons, possibly the ability to change the weighting at the back of the mouse and most of all it must sit ergonomically in your hand to reduce cramps from hours of sustained headshots.
I personally have one of these now as I play a lot of counter strike when I am not developing websites, as you know counter strike has notoriously sensitive aiming that really does require pinpoint precision.
The Corsair Vengeance M65 Gaming mouse comes with an impressive 8200 DPI Laser based tracking sensor, interchangeable weighting, profile management software and even a dedicated sniper button which effectively changes the mouse sensitivity on the fly for those critical opening counter strike dust_2 sniper fights, out of all the gaming mice I have owned in my lifetime the only one that comes close to this for accuracy was the Logitech G-5.
This is a serious piece of kit for a very decent price and a purchase I do not regret.
Best Gaming Mouse / Mice for MMO Games
Logitech G600 MMO Gaming Mouse
G600 Review by Reader Vitaliy Yurkin
I would REEEAALLY recommend the Logitech G600 over the Naga in terms of an MMO gaming mouse- in terms of features, it's superior in every respect. I got it after my Naga went to kaput after just a few months, and by reading online you can find that many people have had issues with the reliability of Razer products in general (My Razer Black Widow died on me after just FOUR months.)
The Logitech G600 comes with better side buttons, LED colour customization, a much better grip, specialized anti-stain surfaces on different parts of the mouse, a ring click, and a higher potential DPI, and I personally have found I greatly prefer Logitech's software over Razer's.
The only thing I can say the Naga has on it was that the scroll wheel had a LED while the G600 does not (only the side buttons), and that the fourth mouse button can't be pressed down with the middle of my pointer finger like I could with the Naga, so I actually had to move the tip of my pointer finger to press it.
Overall, however, the G600 is a ridiculously superior product.
My Thoughts
On the surface, the Logitech G600 MMO Gaming mouse looks pretty similar to the Razer naga mentioned below. Just by looking at the promotional photography on Logitech's website that although they look very similar, as usual Logitech have taken it that a step further with contoured buttons and a much more ergonomic feel.
This mid-high range gaming mouse which comes in at just shy of $63 (or £44 for those of you in the uk) is available in white or black is a serious contender to Razers previously unchallenged Naga coming with 20 programmable buttons and led lighting, however as Vitaliy points out in the comments, the mouse wheel does not come with led lighting.
Razer Naga
Note: This post has been revised, since using the Naga for an extended period of time, I can confirm there is better out there. It was nice having all those buttons at my fingers but it fell apart in my hand..literally. Please see the above Logitech G600 recommended by one of our Reader Vitaliy.
Any hard-core MMO player understands the need to have a plethora of programmable buttons at your fingertips. Take a shadow step rogue in World of Warcraft, for example, if you are playing without add-ons it takes a lot of time and forward planning to key-bind everything, even then it's not adequate and find your fingers getting caught up.
The Razer Naga MMO Gaming mouse is the perfect solution for all MMO players. It's a right-handed mouse that comes with 12 programmable numbered buttons that fall comfortably around your thumb with generous spacing around each so you don't accidentally hit another key.
I had one of these in my World of Warcraft days and I must say it improved my gameplay considerably. My fingers were freed up and had found my hand movements a lot smoother giving me more time to think about enemy positioning.
Splitting up tasks between the left and right side of the brain helps keep your keystrokes smooth.
Best Mouse for Left-Handed Gamers
Roccat Kova
The Roccat Kova is a v-shaped mouse that is suitable for both right and left-hander and features a 3200DPI Optic Sensor, 7 fully programmable mouse buttons and the ability to change the LED colors between 7 different colors.
With its slick v-shape design this mouse is perfect for right and left-handed gamers with amazing tracking precision and even the ability to change the mouse sensitivity via desktop software.
The Roccat Kova is a good all-round mouse, while it won't excel in MMOs and especially FPS it will definitely provide a very smooth motion with decent accuracy.
Conclusion
Personally, I have never been a fan of budget mice and often find myself getting frustrated by the inaccuracy of budget models. They often lack the ability to sensitively track the surface below and often are very jolty ( especially in first-person shooters or PC games with a lot of camera work ), much like investing in a decent gaming keyboard these gaming mice will serve you well for a good few years.