PerformancePSU Verdict:
4.3
/
5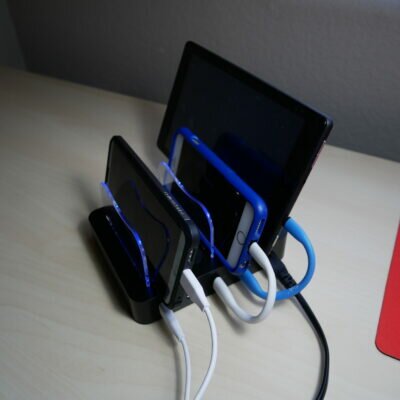 View on Amazon
Overall, this charging station works great and worked the way it was designed to. If you want to reduce the amount of plugs in your wall outlet or surge protector, pick up this charging station. This keeps your charging centralized and would be perfect for the office or bedside.
Simplistic Design
Works great
This review has been made possible by Visiontek.
Visiontek is a US based company that makes more just Graphics cards for AMD. Visiontek is a company that is looking to be involved in your everyday life. From retailers such as Amazon and even their website Visiontek.com, you have access to many accessories you can use in your daily lives. Today's review will focus on its 4 Device Charging Station.
A Closer Look



The 4 port usb charging station is exactly like it sounds, a place to charge 4 devices at once.


The charging station does not come with any charge cables. Visiontek does have twistable micro usb and lightning cables that can be found on their website that work perfectly with charging station.
It has 5 3.2" dividers that can support and keep 4 devices in its own cradle while charging. Each usb port can output 2.1 amps and is supposed to charge your device in the same amount of time that a factory plug will. If your device takes more than 2.1 amps to charge it may take slightly longer to charge. It has a max output of 10 amps and 50 watts. The base has a non-slip rubber base that can keep the charge station in place. Each divider is also led lit. The led will light the divider blue while the device in charging and will turn off when the device is fully charged.
Testing
The testing for this device was pretty straight forward, to use it for a week and charge my family's devices. The devices I use on a daily basis don't require more than 2.1 amps, and such the mobile devices charged in the same amount of time that they would with the factory plugs. The leds lit the dividers at the right moment when the device was fully charged. The build quality of the charge station is great. The dividers are sturdy and will hold all sizes of devices.