PerformancePSU Verdict:
4.3
/
5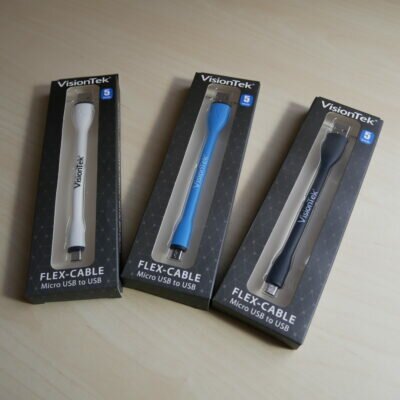 View on Amazon
Overall, these cables just work. While some may not like the length of the cable, it is perfect for the average person who is always on the go and is looking for a charge cable that is compact. You don't need to coil up or wrap the cable to be able to take it with you. The build quality with the silicon sleeving is great and keeps the cable very durable. The price is also reasonable at $10.99.
This review has been made possible by Visiontek.
Visiontek is a company based in the United States that is known for being a partner with AMD and Radeon Technologies Group delivering graphics cards to the masses. Visiontek also sells many peripherals and accessories for your computer and mobile device. At their website you can find many things from cables for your technology, to a mini Bluetooth keyboard. Today, we will take a look at their Flex cable lineup, specifically their usb-to-mini usb cable and usb-to-lightning port cable. Both cables come in at a total price of $10.99 each.
A Closer Look



The micro usb and lightning cables come in three different colors: White, Black and Light Blue. I think the colors are perfect because many individuals don't what their cables in many different colors. The packaging is standard with a box with information about the cable and a plastic shell to secure the cable inside the box.



Each cable measures a total of 5 inches. While that may not be long enough for some people, it is actually a perfect length to be paired with their charging station, car or usb charging hubs. The compactness of the cable makes it easy to carry around in any bag, but also maximizes the charge speeds as the electricity doesn't have to travel a very far length. The micro usb has a standard usb connector on one end and a micro usb port on the other.



The lightning cable in similar fashion has a usb connector on one end and a lightning port on the other.
The silicon sleeving on the cables is made out of a single piece of silicon, which makes it very durable, conforming well to being bent and twisted. The sleeving is secured with a nice plastic endcap to make sure that the sleeving doesn't separate away like many stock mobile device cables.
Testing


Over the last few days I have used these cables to charge my mobile devices and even the Playstation 4 controller. I have a kid in the household and having these durable cables is great because I know that he will be able to play with the cable and it will be able to withstand anything just short of actually cutting the cable. Both cables work and are compatible to devices with either the lightning port or mini usb. I have used these cables with fast charging wall outlets using the 2.1 amp output and my devices have charged perfectly.