PerformancePSU Verdict:
4.3
/
5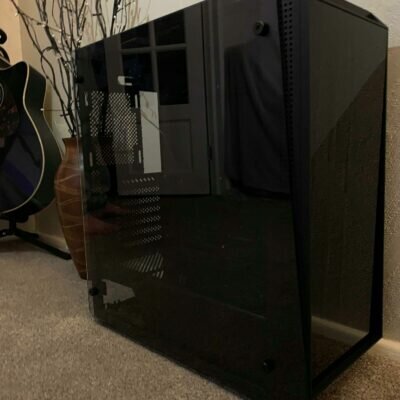 View on Amazon
The X2 Blaze II ATX Gaming case is an amazing looking piece of kit that will easily allow a single GPU build. If however, you want to have more than one GPU and a Watercooling rig, this might not be the case for you unless - you like to mod.
Brilliant Looking
Perfect for single GPU build
Tempered Glass Side Panel
It's been a while since I have done a review, but when I was approached by X2 to review their Tempered Glass Case – The Blaze II – I just couldn't resist the opportunity to get some time with something so beautiful. Who are X2?
X2 is a small company located in the Netherlands started by a team of PC enthusiasts. They wanted to bring cutting edge, high-end design and quality to an affordable price point – After spending the past week with their case, I can certainly say they are doing good things.
Blaze II ATX Gaming Case Specification
Tempered glass ATX pc gamer case
0.50mm SPCC steel chassis
All black coated structure
Front panel Tempered Glass
Left side panel tempered Glass
Right, Top and bottom panel metal
Magnetic dust cover on the top panel
PVC dust filter on the bottom panel
Separated PSU chamber
Cable management 7 routing pockets
1*USB3.0, 2*USB2.0 + HD/AC97 AUDIO
Supports graphic cards up to 380mm
Supports CPU coolers up to 162mm
Supports PSU up to 210mm
Water Cooler radiator: Max. 320mm
Air cooling up to 8x 12cm fan locations (fans optional)
Structure: 400x200x485mm (D*W*H)
Case: 467x207x470mm (D*W*H)
Carton: 550x270x505mm (D*W*H)
2 years manufacturer warranty
Link to specs: https://www.x2products.com/computer-cases/blaze-ii-x2-a7004gw-u3/specs/
Unboxing







Blaze II Design
The design on this case is really something to look at. From one direction you get these very straight lines but turn your head ever so slightly and you get awesome diagonal lines that contrast against the straight, its ingenious. In the 21 years I have been building computers I have never see such awesome use of lines.
The tempered glass sheen to the front and side of the Blaze II is beautiful to look at, for the price point I don't think there is any competition. Tempered Glass on a sub 50 euro case? Total bargain if you ask me
Build Quality



On the surface, the Blaze II is very well constructed, made of 0.5mm SPCC steel – it feels durable and strong. The tempered glass side panel which is held in with thumbscrews in a very unique way – is thick, with no sharp edges or any give. It's a solid piece of glass that adds to the rigidity of the case with no possibility of any cuts. Despite being a little on the cramped side, Inside the build quality is similar with rounded edges and nowhere to cut yourself.

The cable routing, while a little fiddly and tricky to use at times is well designed and thought out effectively hiding any unwanted cables – perfect for the fussy cable management guy. Best of all, at the end of the build, all of my knuckles were still intact.
My biggest gripe about this case was the lack space near the motherboard I/O Panel, there was next to no room to move, it was very fiddly to get anything connected. The reason for this is because of how snug the motherboard is in relation to the power supply cover.

If the case was just a few CM taller, increasing that gap it would be much easier to manoeuvre. Along with this, our test bench setup has space for three GPUs however, I wouldn't feel safe doing so with no ventilation for the third GPU to breathe.


Value


I am sure you have all heard the saying; You can't have it all and that is certainly true for the Blaze X2. It's a beautifully designed case that its meant to look the part. It is not supposed to be expensive and perfect in every way but it does what its supposed to well – look the bomb.
For the price point; €44.95 / $49.95 the Blaze II is an absolute visual bargain. It has enough space to build a watercooled gaming beas t, it looks amazing and you are never going to see a cable out of place. I can't fault this and would happily consider buying one for my next personal build.