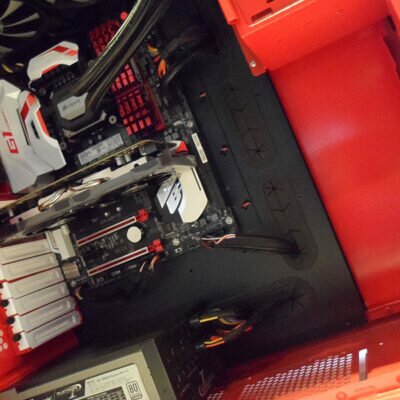 View on Amazon
Initially we didn't expect much from a 2GB card but how surprised we was. Not only did we achieve benchable core clock speeds of 1320MHz but it held up in a majority of our tests as well. These cherry picked GPUs are perfect for volt happy overclockers and mid-range gaming pc builds.
Earlier this month, Matthew reviewed the ASUS Strix 4GB 370 Graphics Card and it proved to be a good choice for a mid-range PC build giving solid performance, however, we were curious to see how the 2GB version would hold up in this day of memory hogging textures. Thank you 1320Mhz core and 1550Mhz Memory for providing us with this sample!
AMD's R7 300 Series graphics cards provide class-leading performance with a 1.25% performance increase over previous generations. They also come with Vulcan and Mantle support, a minimum of 2GB GDDR5 and full support for Microsoft's latest operating systems – Windows 10.
Specifications
The XFX AMD Radeon 370 2GB Black Edition is an overclocked edition of the 370 coming with a factory overclocked core clock speed of 1040mhz and a 256-bit memory clock of 1450mhz, all kept chilly by XFX Double Dissipation cooling.
Lets take a look at the specs:
XFX AMD Radeon 370 2GB Black Edition Specs
Codename: Trinidad
Core Clock: 1040Mhz
Stream Processors: 1024
Memory Type: GDDR5 (Samsung)
Memory Clock: 1500Mhz
Memory Bus: 256-bit
Maximum Resolution: 4096 x 2160
Connectivity:2 x DVI, 1 Display Port 1.2, 1 HDMI

XFX AMD Radeon 370 2GB Black Edition Key Features
Graphics Core Next (GCN) architecture Architecture
Microsoft Windows 10 Ready GPU
Cherry picked GPU at the factory
Factory overclocked to 1040Mhz/1450Mhz
DirectX12, Vulcan & Mantle Support
4K Resolution & Video Playback Enabled
1024 Stream Processors
2GB GDDR5 Memory
Up to 179.2 GB/s memory bandwidth
Asynchronous Shaders
XFX have long been a leading name in video cards producing high-quality products time and time again, the XFX AMD Radeon 2GB 370 black edition is absolutely no exception – a cherry-picked GPU coming kitted out with XFX's double dissipation cooling technology.
You can be sure this is no ordinary card. Don't let 2GB GDDR5 ram put you off this card, it's an absolute screamer and overclocks like a dream, but more about that later – let's take a look at what's in the box
DirectX12 Support
Microsoft's DirectX has been the 'middle man' between you and your hardware. But with the new upcoming release, things are going to be changing – for the better. DirectX 12 gives developers a 'console-like API that gives them direct control over your hardware, enabling them to develop texture-rich games that are even more immersive than previous generations.

DirectX 12 Features
Faster Tessellation
Support for Tiled Resources & Bigger Textures
All AMD Radeon R7 300 series graphics cards fully support Microsoft's new DirectX 12 graphics API.
Frame Rate Targeting Control
Frame Rate Targeting Control (FRTC) is a nifty new feature that results in a better carbon footprint and a smoother gaming experience. FRTC allows you to set a maximum frame rate while playing games in full screen mode – great for playing titles such as Counter-Strike which can run right up to 300+ fps.

This has several advantages:
Lower GPU Power Consumption by up to 100w under load
Lower Heat output as a result
Less noise
Less screen tearing due to better matching your monitor's refresh rate
By enabling R7 300 series GPUs with FRTC, AMD has effectively reduced your electric bills.
Unboxing
Time for the un-boxing. Let's see what this GPU look's like and what XFX have included in the 370 GPU box.



The Black Edition graphics card represents our highest achievement in GPUs
We are going to put this claim to the test later, but first more unboxing.
Inside the box includes:
1 x XFX Radeon 370 Video Card
1 x Driver CD
1 x Installation instructions
1 x Warranty card


Next up is our test bed and gaming performance benchmarks.
Test Rig

CPU: Intel 6700K (Skylake) @ 4ghz / 4.2Ghz Turbo
Motherboard: Gigabyte Z170x Gaming 7 Motherboard
Memory: G.SKILL Ripjaws 4 DDR4-3333mhz @ 16-18-18-38-1T
HDD: 500GB Samsung EVO 650 M.2
Power Supply: Seasonic P-Series 1000W Fully Modular
Case: Modified Fractal Arc XL
Gaming Performance & Benchmarks
All tests are completed using the built-in benchmark for each video game, running at 1920×1080 unless otherwise stated.
Tomb Raider
While the title was released nearly 3 years ago, it still provides a solid challenge for GPUs. While the 370 cannot sustain an average of 60 FPS or more, it still delivers a very playable frame rate of 43 FPS.

Dirt 3

Thief

GRID: Autosport

Metro: Last Light
Metro is by far one of the most demanding games around and really proved a challenge for the XFX 370 black edition gpu yielding an average of 20fps on its highest settings, it was only when I brought the settings down to medium, turned down Anisotropic filtering and motion blur does the game really become playable.

For a mid-range graphics card that only has 2GB GDDR5 ram, the XFX AMD Radeon 370 2GB Black Edition did really well.
Shadows of Mordor
Shadows of Mordor is a GPU-intensive game that can cause issues for even the biggest of graphics cards yet this small 2GB video card still produced a playable 47FPS at ultra settings

Considering a great deal of graphics cards has at least 4GB ram these days, I was not expecting for this unit to perform as well as it did in gaming benchmarks. Granted some games were unplayable at times but that doesn't mean things didn't still look 'good'. Gaming is much more than just how a game looks, it's also about the experience it provides and for that, we don't need everything set to ultra.
Let's see how this card performs in the overclocking review
Overclocking Performance
Overclocking on this card was a little bit of Jekyll and Hyde. While the maximum overall 'safe' overclock was only +40mhz on the core and +50mhz on the memory, this thing just kept going and going and going until I reached the maximum of +20% power limit.
Granted past our 'safe' overclock we could no longer bench in 3DMark or similar without seeing a deterioration in our scores, we could however keep pumping up the core clock speed and getting valid results out of GPUPI all the way up to 1320/1550! At 1330/1550, the system hangs which leads me to believe that a few choice volt mods and a Dewar of LN2 could yield some very interesting and potentially record-breaking 'computational' results.
Let's start with the maximum safe overclock I could achieve before degeneration set in with benchmark scores, I will not include GPUPI and suicide results until the end.
3D MARK
The most troubling thing in this test for me was the lowest score that was produced time and time again at overclocked speed. It was the only test to produce these weird results. In every other stress test, benchmark and game the GPU was completely stable.

UNIGINE ENGINE

CATZILLA

The weirdest thing about the above results is that overclocking with-in the safe limits of the card yielded a very small boost to benchmarks, I think this can be partly attributed to the lack of RAM.
XFX Radeon 370 Black Edition Suicide Results
As previously mentioned the maximum safe long-term overclock was relatively mild in comparison to what I am about to show you. In Matthew's earlier 4GB Radeon 370 review, he struggled to get anything stable above 1150Mhz core however, this 'cherry picked' beauty managed a stomping 1320Mhz core and 1550Mhz Memory all while returning a perfectly valid GPUPI score.

I have had a lot of different graphics cards to play with over the years but never have I been so speechless.

We managed to reduce our original GPUPI time of 1m 46s to a crazy 1m 24s, I have never seen such huge gains before. 280Mhz increase over an already overclocked core of 1040Mhz. I'm not sure what XFX have done to these cards but they definitely tick all the boxes an enthusiast overclocker could wish for. I can't help but feel that with a pair of balls volt modding this card as well as cooling with LN2 or DICE could yield amazing results – even if it is a re-branded 270.
Conclusion
When I first received the XFX Radeon 370 2GB Black Edition from 1320Mhz core and 1550Mhz Memory to do this review with, I was not expecting very much in terms of gaming performance if I am honest. I was certainly not expecting the playable frame rates that were being produced on some games even at 1920×1080 / ultra settings.

The XFX AMD R7 Radeon 370 2GB Black Edition is by no means a powerhouse and is essentially an AMD 270 re-brand but it's still more than capable of keeping up to the task.
You're not going to be cranking everything up to ultra all the time but what else can you expect for $169.99 (£119.99 in the UK). It's a more than capable mid-range desktop GPU at an entry-level price that can still provide a tonne of gaming enjoyment. While this card won't produce playable frame rates at 4K resolution it's still an absolute bargain for a mid-range gaming pc build.
While every GPU is different, there is no doubt that the XFX AMD Radeon 370 2GB Black Edition is a special card and absolutely lives up to the bold claim I outlined earlier; The Black Edition graphics card represent our highest achievement in GPUs, producing valid GPUPI results in all the way up to a mind blisteringly fast 1320Mhz knocking over the 20s off the stock benchmark result.

With a little nurturing, some extra volts and some sub-zero cooling this would be a really fun (and cost-effective) card to overclock. This is a great video card for both overclockers and gamers alike!